Crocs Get A Major Makeover: Would You Wear Them Now?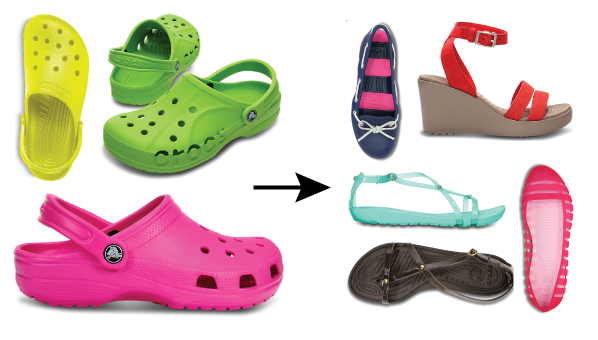 It only took Crocs eleven years to realize that they need to change some things up. Those chunky, bright clogs are not working (did they ever?). Yeah, we've seen celebrities like Brooke Shields and Rihanna wearing Crocs clogs, but otherwise the only people who actually wear these shoes are nurses (for comfort, we get that) and children under the age of 12.
Thankfully, we're not the only one's who want to erase this shoe from our memory. Crocs CEO John McCarvel is not a fan of the clogs and wants to shift the brands focus onto new (i.e. normal) shoe designs. Now, Crocs offers over 300 designs that are NOT clogs, from wedges and boat shoes (yes!) to kitten heels (WHY?!). At least this is a step in the right direction for the brand. Maybe in another 11 years they'll realize that the Crocs kitten heel should have never existed either. Hey, at least then the Crocs clog will have a friend in the world of banished shoes! Tell us, what do you think of the new Crocs styles?
For more news check out: Oliver Peoples x MyTheresa, Rihanna goes grey and Sarah Chloe x Goop