Sorry ladies, crop tops are here to stay even as colder weather rolls in. So, continue your ab workouts and dive into the pool of great fall crop tops, like the one Kate Mara wore, a Sea Collared Crop Top ($265). With a fresh new blonde bob, the actress showed off her toned stomach with this plaid shirt and some boyfriend style jeans. A black A-line skirt would also look fab as would any of the black track pants overflowing stores this season. Grab the top below!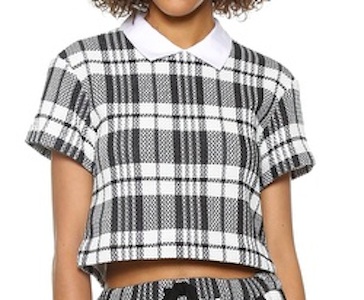 Sea Collared Crop Top ($265)
Psst, there are matching shorts available too!
Don't miss out on Beyonce's crop top, Hilary Duff's booties and Jessica Alba's leather track pants.
[Photo: Splash News]