SHOP THE SLIDESHOW ABOVE TO GET THE LOOK
When it comes to statement necklaces, beaded baubles are stepping out of the spotlight and making room for clear-colored crystals in lattice-like patterns and sparkling finishes. We love how you can pair this new wave of jewelry with preppy pieces and downtown-style garments alike. The subtle hint of bling instantly adds glamour to any wardrobe, whether you're layering it onto a collared blouse or adding a feminine touch to your worn out, vintage t-shirt.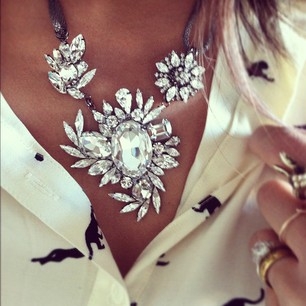 It's the necklace's easy way to conform to your taste that makes this effortless look one of our newfound favorites. Check out our slideshow above of our dazzling picks.
SHOP THE SLIDESHOW ABOVE TO GET THE LOOK
Shop our guides on stylish weekend bags, bright blazers, and colored trench coats.