Don't get caught helpless in the rain like Gossip Girl's Blair Waldorf, the spring rain season doesn't have to be a downer if you have the perfect accessory to shield you from the elements.  Protect from frizzy hair with one of these adorable umbrellas that are small enough to fit inside your everyday tote: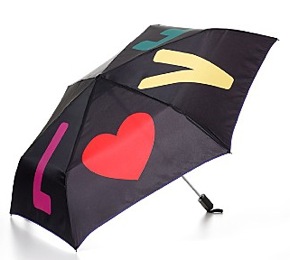 Sticking with the love-rain analogy, Felix Rey ($88) wants you to spread the love with this colorful umbrella.  You're sure to make someone's otherwise gloomy day with this cheerful style.
Only the king of cool Marc Jacobs could make rain gear seem hipster chic.  The details and name of the Miss Marc Glow in the Dark Umbrella ($68) are awesome with a starry night pattern that, you guessed it, glows in the dark and a tasseled handle add-on.  Whip it out on your next rainy date night to create your own constellation.
Why do the most romantic movie scenes always seem to take place in the rain under an impossibly romantic umbrella?  Create a cheesy rain moment of your own with this ruffled heart-shaped umbrella by Juicy Couture ($38).
If you can't afford a $795 Burberry trench (and really who can?) you can still get their trademark rain style with a Burberry print umbrella.  In recent years, Burberry has added a modern twist to its classic prints, like the floating red hearts that decorate this Burberry umbrella ($125).
Animal prints are a massive trend for this spring, so a leopard print umbrella is a stylish way to weather the jungles of the city.  Saks Fifth Avenue's "Ultra Mini" umbrella ($32) folds up to a small size tiny enough to fit in nearly any purse.
Find the cutest rain boots and trench coats to match these umbrellas and create a completely rain-proof ensemble.  Find out about all the best online sales with our list of this week's online sample sales.