You'll normally find us oohing and ahhing over the to-die-for dresses A-list stars are wearing on the red carpet and out on the town. But recently, we've  really been feeling their coats. Sarah Jessica Parker, Reese Witherspoon and Kate Hudson are just a few celebrities we've spotted in outerwear we'd like to own.
You'll need to cover up that cute party dress with a coat that is just as opulent (the better to party-hop in)  so we rounded up a few of our favorite star-inspired coats. They're sure to garner just as much attention as the cocktail dresses underneath them.
Pretty purple and red stripes look chic on this slim A-line  colorblock coat–way better than a basic black one (and easy to spot at the coat check).
If you don't want to wear a heavy wool coat, throw on this bold blue trenchcoat. The flared hem is a figure-flattering touch. We like the idea of wearing a just as bold party dress under it–in yellow, red or purple.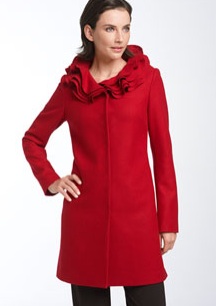 It's all about the ruffled collar on this cherry red T Tahari coat. It's festive attire at its best.
Looking for a short, funky coat option? This faux fur coat will keep you warm and looking great, a la Kate Hudson.
For more coats we love, check out the latest coat trends, peacoats and leather jackets.