Imagine the stuff you wear every day, with a slight fashion forward update. That's what our new favorite label, House of Cassette is all about. Fortuitously, they're offering at 35% off sale at 80s Purple today so you can snag something great without paying a boatload of cash. It gets better: Use coupon code Free2010 to get free shipping.
One little black dress goes a long way. Make this  House of Cassette black poplin dress ($54.60, down from $84) work overtime from work to parties.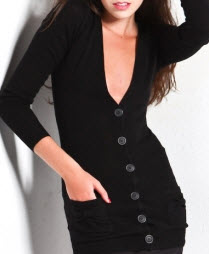 Who knew a cardigan could be so sexy? This clingy v-neck  House of Cassette black cardigan with pockets ($54.60, down from $84) will be a staple in your closet through spring–we promise.
Without a doubt, these House of Cassette femme skinny jeans ($112.20, down from $187) are the coolest new black jeans we've seen. The worn look makes them almost look charcoal–a step ahead the jet black jeans that have ruled our closets for the last year.
More Sales and Deals:
Bluefly: Save up to 40% on spring shoes and handbags
YOOX: Indulge in 80% off designer clothes, shoes and bags during the end-of-winter sale
Topshop: Up to 50% off clothes, underwear and accessories
Shop for more clothes that will look great regardless of the season: we've got stylish  black dresses, the best cardigans and black jeans to fulfill your every wish.