Button up that pea coat and tie your cashmere scarf on tight, as much as we've tried to fight it in our fall blazers and cardigans, cold weather is really here. So, rather than pout, we suggest you embrace the frosty weather and invest in one of these marked down coats from Old Navy.
This regal tab-waist coat ($45 from 90) is fit to be worn over a silky frock, but it'll look just as nice warming you up in skinny jeans and a tee.
Old Navy's Frost Free Coat ($40 from $80) makes the puffer chic again with its trendy faux fur trimmed hood and a waist-defining belt.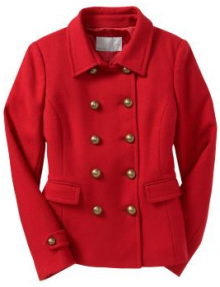 Jazz up the stylish military trend with this wool blend "cadet" jacket ($35 from $70) in standout red.  If you're a little less adventurous, it comes in a classic navy as well.
No matter how cold it is outside, you can always shop beside the warmth of your laptop, so don't forget to browse our guides to the best in coat trends and leather jackets.
More Sales and Deals:
Bloomingdale's: Take 20% off your purchase with the code BFRIEND at checkout
deLiA*s: Save $20 when you spend $50 for a limited time only
BeltOutlet.com: Up to 50% off pashmina and cashmere wraps and scarves