Wondering about wedding etiquette on plus one's, wedding party favors, and more?  Kristin Banta, wedding extraordinaire and owner of Kristin Banta Events, has offered to dish up her top advice on how to properly plan your wedding and then some.
From clientele including Fortune 500's to multi-platinum recording artists, and her work constantly being featured in magazines such as Los Angeles Weddings Magazine, The Knot, Style Me Pretty, and more, it's safe to say we can trust what she has to say.
For The Bride and Groom:
Are eVites/Paperless Posts acceptable?
"Will u come 2 my wedding?"
This one is a bit trickier. "A wedding still necessitates a proper mailed invitation," she advises. "This is a guest's first impression: the invite itself (paper stock and even method of printing) sets the tone for the rest of the wedding. They will take more notice of a formal printed invitation than yet another evite piling up in their inbox."
What's your "Plus 1" policy?
"This is not a club, it's your wedding," Banta states. "Unless unmarried couples are very serious and have been together exclusively for over a year, they don't need a plus one on your dime."
Should the couple pay for guest's airfare or hotels for destination wedding?
We got a great rate on our hotel rooms!
Kristin says that you are probably off the hook: "It is not necessary to pay for guests' airfare or hotel," she explains, "Though it is important to negotiate good group rates so that they are not paying full fares for this travel." Good idea!
What is an appropriate timeframe for sending save-the-dates?
Banta recommends sending save-the-dates as early as 8 months from your wedding date, but not later than 6 months from the actual date. If it's a destination wedding it's polite to give them as much notice as possible.
Are wedding favors a must?
Banta's rule: only give gifts that have significance. "No one needs a piece of generic chachi that is not associated with anything that you specifically cherish as a couple," states Banta. For example, wine-lovers should opt for a Bottle Opener ($4.67) — personalization is a bonus.
Who pays for the bridesmaids dresses?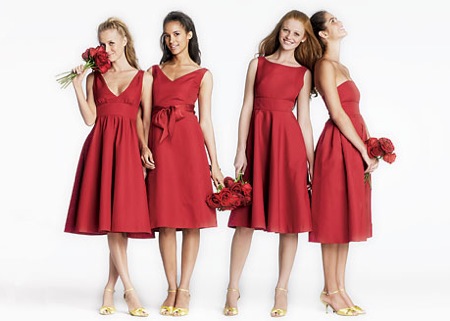 I can't believe she picked red.
Unless you're letting maids choose their dresses, Banta believes you should pay (since they'll never be worn again). "If you allow them to choose their own dress, then they can assume the financial responsibility for this," otherwise, its proper for the bride to pay.
How long does the couple have to send thank you notes?
"Send thank you notes as gifts come in," relays Banta. "And absolutely no later than 6 weeks from receipt."
For Guests:
How much should you spend on a wedding gift?
"I hope they don't notice it's a re-gift."
"$100 per couple is the standard amount to spend on a wedding gift for a formal wedding invitation." Amount for destination weddings can vary.
Is it better to send the gift ahead of time or take it to the wedding?
"Send the gift to their home so that they don't have to lug it home from the wedding reception," says Banta.
Can I change my RSVP after I've mailed it in?
This is officially a tricky situation! "If it's anywhere near the RSVP deadline, definitely not. If, however, you just mailed the RSVP and are fairly close with the couple, you could probably get away with putting in an immediate call." Explain the situation, apologetically, and make sure you bring a good gift when the big day comes!
I know the rule on white – but can I wear cream or off-white to a wedding?
"If the bride is super confident and not an old school traditionalist, it should not be an issue!" But don't push it — avoid floor-length, ball-gown or beaded styles that resemble a wedding gown.
Shop our guides to inexpensive wedding dresses, long bridesmaid dresses, and plum bridesmaid dresses now.