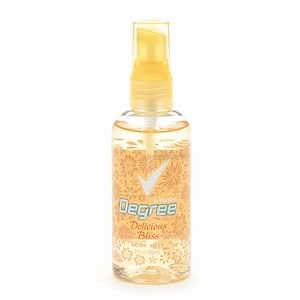 What: Degree Women Fine Fragrance Collection, $4.29-$4.99 
Why: I have what I call "pitsturbia"—I am completely fanatical about whether my armpits' smell. So much so, that I announce it to people (like I am right now)—at work events, out dancing, in gyms. Most people think it's just one of my many quirks, but it drives me mad.
So, the search is always on for the perfect deodorant that will mask any malodorous stank (Quick note: I'm not particularly stinky, but, like I said, I'm super-OCD and self-conscious about any and all pit odor) without that B.O.-baby-powder-fragrant-cover-up combo (you ladies know what I'm talking about).
I attended Degree's unveiling of its new Fine Fragrance Collection, which marries three antiperspirants with coordinating body mists, and, I gotta say, these work. The three scents—Classic Romance, Delicious Bliss and Sexy Intrigue—don't smell like deodorant, perhaps because they were dreamt up by renowned "nose" Ann Gottlieb, who's introduced our sniffers to such iconic scents as CK One and Obsession.
I first tested out Classic Romance at the gym; an hour and a half of sweating left me smelling like roses—seriously. I next tested Sexy Intrigue (a blend of jasmine, rose and vanilla) when rushing to an event; despite my typical nerves, I smelled pleasant, if not a little sexy. And then I became obsessed with Delicious Bliss, which has a delectably sweet scent of apple, peach and magnolia. Layering each with its matching body mist isn't at all over-bearing, and has me sending my pitsturbia to the pits…hopefully for good.
Get Yours: Drugstore.com