High waist, five buttons and wide-leg are not usually terms we use when describing our favorite pair of jeans. That's about to change, though, Thanks to Hilary Duff and FRAME denim.Hilary went grocery shopping in her FRAME Le Original Jeans ($249) and we were floored–in a good way. These jeans look, well, really freakin cool. And really, really comfortable. Yes, and like that, we are sold. How about you? Shop them below!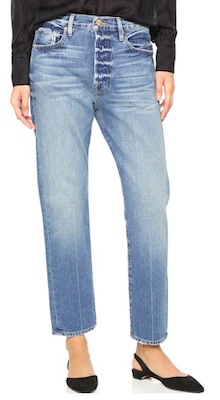 FRAME Le Original Jeans ($249)
Check out more fresh finds such as Jessica Alba's $75 side zip Vans and Khloe Kardashian's cool leggings.
[Photo: Splash News]