With all the spring pastel polish launches popping up, we were ecstatic to lay eyes on Dior's bold new Cruise Collection. With punchy colors like Lime and Mango, this polish line is more like a fresh fruid salad than a visit to the pastry shop; a refreshing departure from the sugary overload we've been seeing in nail polish otherwise.
The only caveat: it will have you daydreaming about basking on a cruise ship with an umbrella cocktail in hand. Oh, and Dior is also celebrating their 50th anniversary of nail lacquers, so we'd imagine that this collection will sell like hot cakes: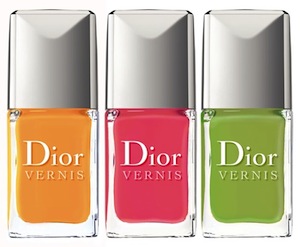 Shop now: the Dior Vernis Cruise Collection ($23) includes shades Mango, Pasteque and Lime (pictured above; L to R).
In need of more nail polish news? Check out Ciate's new ColorFoil polish, MAC's Apre Chic polish and China Glaze's Tranzitions collection now.