Madelyn Somers, founder of Tycoon, the women's bow tie line that has been featured on the pages of Vogue Spain and Refinery29, is promoting a whole different kind of neckwear. "It takes a certain type of woman to be able to wear a bow tie and pull it off because it's not just an accessory, it's a statement that promotes confidence, individuality, equality, and style, of course," she tells us.
Tycoon's bow ties aren't just your grandfather's hand-me-downs, though. Rather, they're fashioned from vintage men's neck ties, and then adorned with feminine detailing. Somers believes it's that femininity that sets her product apart from the masses: "There are bow ties that are made for men that women can buy and then there are Tycoon ties: each one has one-of-a-kind tassels, chains, buttons, or rosettes, which may be a little less intimidating for women who want to dress somewhat feminine, while still having that menswear flare."
Somers first got the idea for Tycoon Neckwear when she was in Santa Cruz, CA, visiting some friends who she went to college with. "I'd always go to this place called Bargain Barn, a warehouse filled with Salvation Army's rejects where you thrift by the pound. I found a barrel of men's ties and I was drawn to the possibility of what I could use them for other than the intended purpose. I had this idea of making a bow tie out of the skinny end of the tie and adorn it with more feminine accents to really make an accessory for women."
Somers' flair for vintage clothing has influenced both her brand, as well as her personal style. "I just came from the Rose Bowl flea market in Pasadena and I bought a pair of some great worn-in Levi cut-offs in dyed coral for the summer. I always love color blocking and mismatching prints whether it's in fashion or not," she says. That sense of pairing unexpected things together also bodes well for her bow tie design, which is rich in vibrant prints and juxtaposing details (like a red plaid tie with a gold chain and nautical button, as seen on her Stephanie Tie below, left):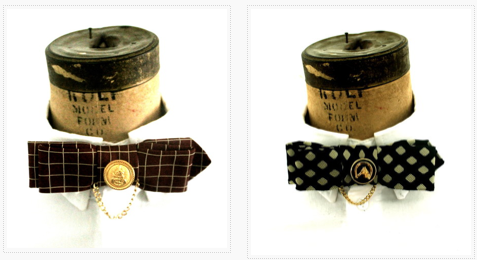 While her mom was a former fashion designer who used to hand-paint men's button downs for women ("How fitting, gender bending runs in the family!" she jokes), Somers majored in Theatre Arts and never really saw herself getting into fashion. Throughout her life though, she said she's always had a passion for starting projects and trends.  "I even remember having a little business in 3rd grade making bra strap head bands with rhinestones that I'd bring to the playground and sell to my friends for a few dollars," she tells us. "I suppose I always was a little bit of an entrepreneur, but at 8 years old that may have been a little premature and possibly illegal."
And as for the future of Tycoon Neckwear, Somers is ultimately enthusiastic about expansion: "It would be a dream to expand! Eventually, I'd like my line to become somewhat of a lifestyle brand, creating this ideal woman who is self-sufficient, cultured, and empowered." And who would be her dream designer to collaborate with? "I really look up to Ralph Lauren and the empire he has created. I'd love Tycoon to be mentored by him and his designs. Ralph are you listening??"
Tycoon Neckwear can be purchased at boutiques throughout Los Angeles, as well as online at www.tycoonneckwear.com.
Looking for another menswear-inspired accessory to go along with an embellished bow tie? We've rounded up our favorite oxfords and brogues below: