With the 2017 version of Wonder Woman, actress Gal Gadot ushered in a totally rebellious (and not to mention sexy) revamped version of this powerful female character. Gone are the former generic red, white and blue Wonder Woman Halloween costumes. Instead, make way for a much less demure outfit inspired by the recent film. Gadot rocked darker, more edgy colors for her costumes, which you can easily replicate for a DIY Halloween outfit under $100.
First, let's talk tops. Wonder Woman can't be seen in just any old shirt. You need a statement-making strapless number that shows off your killer form. This velour bodysuit screams "girl boss" and hot female force to be reckoned with. Plus, you can save it for GNOs in the future to pair with jeans and a jacket. Even though it doesn't have the same plated dealing as the original movie get-up, everyone will still be able to pinpoint who you're dressed as.
Strapless Crisscross Velour Bodysuit ($12.91)
Your skirt selection also plays a major role in defining this costume. Most Wonder Woman costumes in the past payed homage to earlier representations of the comic book character, featuring blue tutus or skirts speckled with white stars. As much as we love the patriotism, your costume needs to get with the times and reflect Wonder Woman 2.0. Look for fitted skirts in more subdued, dark neutrals, like this Walmart skater skirt. You can also check out this black origami skirt. Main takeaway—steer clear of looking like the American flag. Also, make sure that your skirt errs on the shorter side, since you'll want to pair this outfit with tall boots and avoid cutting off your legs.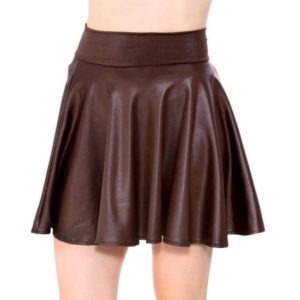 Women's High Waisted A Line Pleated Short Skater Skirt ($10.99)
Use a flashy gold belt to sync the top and bottom. It's also not a huge deal if your skirt and top clash since the belt helps break the two pieces up.
Women Gold Full Metal Plate Mirror Fashion Belt ($13.72)
Your sky-high shoes need to give off a "don't mess with me" vibe and make your stems look miles long. You'll be the sexiest superhero at any Halloween party if you put your best foot forward in these sleek over-the-knee boots. The 4″ heel gives you that extra height factor to boost your confidence and make you feel like you can kick anyone's butt which, if you're wearing these shoes, would definitely hurt. This component would be the most expensive part of this Wonder Woman costume, but it totally evens out when you factor in how much use you could get out of them year-round. If you really want to look the part, buy a leather pair.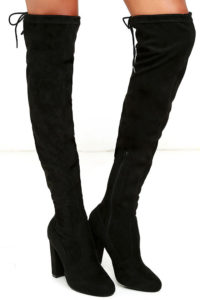 So Much Yes Black Suede Over The Knee Boots ($49)
To fully avoid the "what are you supposed to be?" question, Walmart released a gold Wonder Woman headdress and arm band set for the finishing touch on your costume. Even though they're for children, you can still try to squeeze into them for the sake of Halloween and to further authenticate your costume. If you want even more themed accessories, check out Walmart's Wonder Woman sword and shield, which also happen to be for children. Grown women need Wonder Woman swag, too!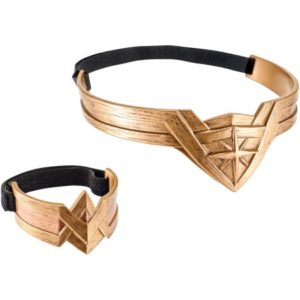 DC Comics Wonder Woman Headdress & Arm Band ($7.07)
For more DIY Halloween costumes, make sure to check out this year's best pop culture Halloween costumes.
[Photo: Warner Bros.]