Make a signature shoe. And I mean this quite literally. Some brides have their bridesmaids sign the bottom of their wedding shoes. Others adorn the soles with a special message "I do" "forever". You can go carve-a-tree-style with his initials + yours. Go on—show your ridiculously (over)priced shoes some lovin'!
[Photo: Brookelyn Photography]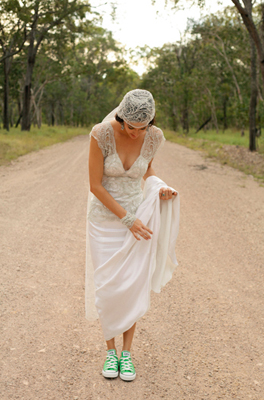 Choose a custom-designed dress. If you haven't picked your perfect gown yet, take note: You definitely don't have to shop off the rack for your wedding gown. Sure, you can get great discounts shopping for ready-to-wear gowns especially if you can score your dream dress at a designer sample sale. (And by the way, we are all for shopping off the rack as an option. No qualms about that!) But you should know that a gorgeous custom-designed gown doesn't have to blow your budget. You don't even have to work with a specific-to-weddings gown designer. You could locate a dressmaker who can create your vision. Do your research online and in magazines to find "the one" for you (designer, that is) and when you meet with that designer, be open to discussing your desires, details, and dollars—they should be able to help you make the hard decisions about where to cut back so you still get the look you want but for less.
[Photo: Marina Locke Photography]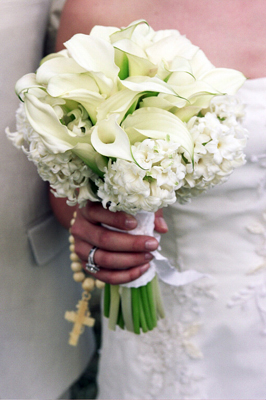 String your rosary around your bouquet. Rosary beads are prayer guides for Catholics and it's a nod to tradition and religion to carry a set on your wedding day. One way brides can do this beautifully is to wrap the rosary beads around the bridal bouquet. Love the idea but you aren't Catholic? How about adorning your bouquet with a family heirloom such as a broach or string of pearls.
[Photo: Red Ribbon Studio]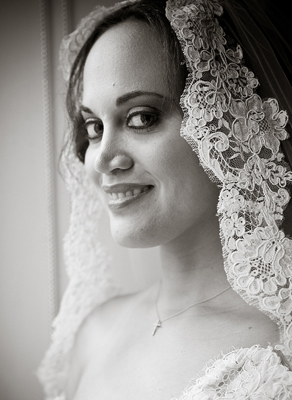 Transform your grandmother's veil. More and more brides are opting out of wearing a veil (I didn't wear one and I don't regret it). But, I'll admit, most veils are breathtakingly stunning. And if I had chosen to wear one, I would have liked to have worn a veil with meaning. If your grandmother, mother, great aunt kept their wedding wear, see what you can do to salvage the veil and make it look new. Ask your wedding gown designer if they can recommend someone who can restore veils.
[Photo: Jenny Ebert Photography]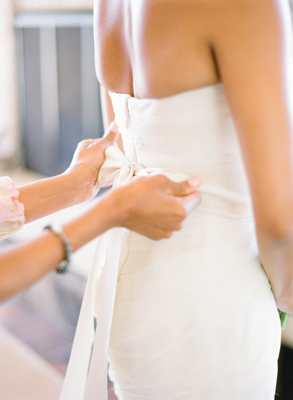 Wear part of your mother's wedding gown. I don't know how many brides these days wear their mother's wedding gown. I mean, in fact, I actually know no brides who have done this although I am sure some still do carry on this time-honored tradition. But I do love the idea of at least wearing a part of your mother's gown. If she approves, see if you can transform some part of her gown into something special on yours—applying lace on hers as sheer sleeves on yours; using part of the bodice of hers as a sash around yours. Bringing in the old with the new might be the Project Runway-esque "wow" factor you were looking for.
[Photo: KT Merry Photography]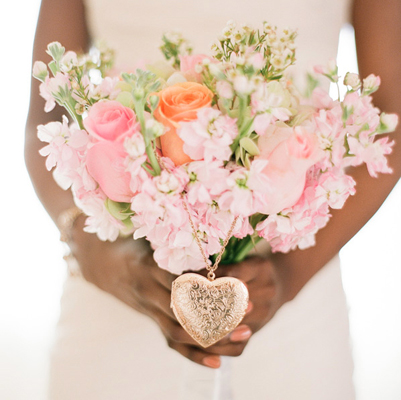 Include a locket. You can wear it as a necklace, tuck it into your updo, or fasten it to your bouquet. A locket can hold a special secret—your favorite memory of you and your soon-to-be or a photo of someone special like your late gorgeous grandmother who was unable to attend but whom you want to keep close on your wedding day.
[Photo: KT Merry Photography]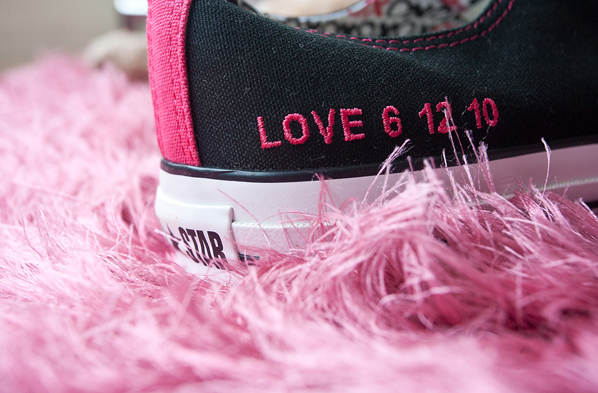 Choose cool kicks. We see this a lot with the groom and groomsmen—more and more dudes are forgoing dress shoes for cowboy boots and converse. But brides can get in on this action too and not just for comfort after the first dance is done. Wear your cool kicks even as you head down the aisle. We're head over heels for a handstitched wedding date on the side of your shoe. Bonus personalization points!
[Photo: Jenny Ebert Photography]
Change dresses for the reception. Okay, admit it. It's every girly girl's dream—to do a sophisticated-to-sexy switcheroo midway through your wedding. I mean who wouldn't want two wedding dresses?! Trade in your designer ceremony gown for a hot reception dress that really shows off your personality. It can be white, but doesn't have to be. And it doesn't even have to be a wedding dress. Shop off the rack for an ooh-la-la party dress. Plus, with accessible brands adding wedding lines to their collections (ala J. Crew), you might just be able to afford the much-desired costume change.
[Photo: Brian Dorsey Studios]