Halloween is a lot sooner than you might think, and if you're not interested in a wearing a slutty Skittle or Snooki Halloween costume, the search is on for the perfect, original costume. Since we know there are going to be a lot of Lady Gaga's at the Halloween party you're going to, why not go a different pop star route and be Katy Perry a la the "California Gurls" music video. Whipped cream cans and all.
You'll obviously need a Betty Page-style wig ($16.55) to get the Katy Perry look down pat.
Thanks to the Halloween "slut rule," you don't have to wear much else than this Lunaire Isabella Lace Balconette Bra ($34.99). Plus it's so sexy, you'll want to keep it in rotation after trick or treating is over.
You're also going to need a pair of retro sequin hot pants, and these Patricia Field High Waist Sequin Shorts ($84) are the perfect solution– they look just like Katie's pair.
Once you pull on some red thigh-high boots, like this FlirtCatalogue pair ($54.95), you'll almost be set. Now for the finishing touches…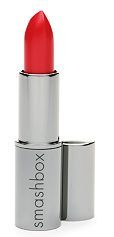 Top it off with a classic red pout– we like Smashbox Photo Finish Lipstick in Legendary ($22), a color you're sure to want to keep around for holiday parties in December.
Top it off with two cans of Reddi Wip whipped cream from your local supermarket. Pretty easy, huh?
For more costume ideas, check out this post on how to dress as Snooki, or choose a look from Simon Doonan's Target Halloween Costume Collection. Then, shop our guides to the best celebrity beauty and thigh-high boots.