There's nothing worse than facing airport carousel, waiting for a bag that will never arrive. According to recent reports from the travel industry, 25 million bags were lost by airlines in 2009 (that's 1 in 100 passengers). Don't be a statistic: get one of these cool carry-on luggage pieces so you can fly by baggage claim in a flash.
1. Classic, lightweight, collapsible and available in a billion colors, this Lesportsac tote ($78) might just be the best travel bag ever.
2. This Diane von Furstenberg luggage ($78, down from $220) is a great deal–a chic, sturdy wheeled bag doubles as a good-looking duffle bag. Of course, we'd expect a jetsetter like Diane von Furstenberg to know exactly what kind of luggage to make.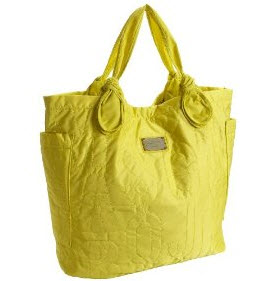 3. This fun and cheery Marc by Marc Jacobs tote ($188) is large enough to carry your life, and bright enough to never get lost.
4. Practical and easy to use for short trips, this Olympia Deluxe garment bag is a must-have for all of those summer weddings you're going to.
5. Shake things up a little with this Toss Designs rolling bag ($140).
See our entire guide to carry-on bags, plus cool sneakers and skinny jeans. Then finish off your summer wardrobe with mini skirts, cheap swimwear, and celebrity sunglasses.