One of the perks of living in California? No winter! Halle Berry certainly wasn't feeling the first chill of fall when she stepped out wearing this T-bags Braided Back Maxi ($202). If you feel like you've seen it before, that's because Kourtney Kardashian wore a similar dress earlier this summer.
Now the sad news for us New Yorkers is that maxi dress season is coming to a close. But if you live on the West Coast, there's no reason why you shouldn't snatch up this cute chevron maxi ASAP. It's not maternity, so you don't have to be pregnant to wear it. Score it below.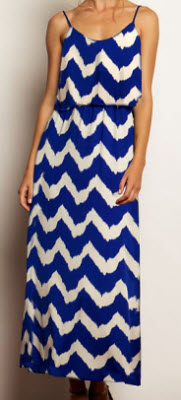 T-bags Braided Back Maxi ($202)
Looking for more great fashion ideas from your fav celebs?! Check out looks like Taylor Swift's trench coat, Gwen Stefani's $1,695 handbag, plus Rachel Zoe's cape and Nicole Richie's House Of Harlow booties!
[Photo: Splash News]