If you don't already envy Kelly Ripa's runner legs, awesome tan and bubbly personality, you'll definitely be jealy of her adorable neon pink J.Crew shorts (above). Kelly's J. Crew 3″ Chino Shorts ($45), which she's been photographed in on more than one occasion, are the perfect pop of color for summer. For those that want to add a bit of panache to your everyday look, follow Kelly's lead. Pair them with a soft white T-shirt and flat sandals for a great weekend look.
J. Crew 3″ Chino Short ($45)
For those that aren't as petite as Ripa, or want to wear a pair that's not so short, try the J. Crew 5″ Chino Short ($45) instead.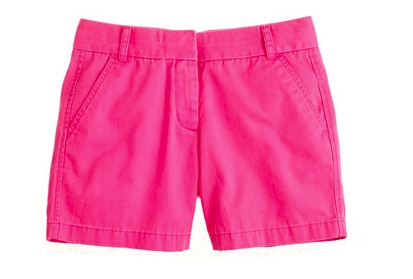 J. Crew 5″ Chino Short ($45)
Shop more celebrity style finds: starry-printed jeans, Selena Gomez's $15 dress, and Kirsten Dunst's gingham swimsuit.