Having covered The Rachel Zoe Project for an entire season, I figure what better time to dress up as my favorite rabid, super-shopping uber-stylist than Halloween? It's now or never to try this look on for size – or to basically throw on all my accessories at once.
If you care to join me, I would suggest starting with copious amounts of black eyeliner and mascara. Snag this Wet and Wild Kohl Eyeliner in Charcoal 655 ($1.50) and rim your eyes a couple of times, then follow with two coats of Maybelline Great Lash Mascara in Very Black ($4.30).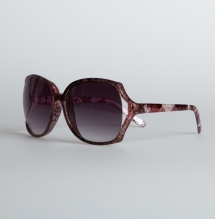 Throw on a pair of oversized sunglasses like these Python Retro Sunglasses ($6) and you've got the foundation for the look.
There are a few more things to get this haute hippie look: a faux fur vest, tons of statement accessories, and a huge oversized tote. This AE Furry Vest ($50) will definitely do the trick for little money. As for the bag, I think this Quilted Saints Tote ($44) will do just fine.
Accessorize with this Sterling Silver Marcasite Ring ($20) and Faceted Stone Bracelet ($9.50). Throw on some black jeans and a tank top and get ready to shut it down.