In the era of at-home remedies and DIY projects, anything is possible (and cheaper) to make instead of buy. From rosé gummy bears to a studded chambray shirt, the DIY options are endless. You cut back on major costs by taking matters into your own hands, and you don't even have to consider yourself a crafty person to successfully tackle a new DIY. Now, you can add another project to your to-do list: face masks. Making your own mask ensures that you use completely natural ingredients without any harsh chemicals or irritants. Check out how to DIY your own face mask specifically for dry skin. Your skin will look and feel better, and you can use ingredients already laying around your kitchen.
There are a few different ways to go about making moisturizing masks with various ingredients, so feel free to add your own variations if you're already a DIY face mask pro. Most DIY face masks for dry skin include honey and/or avocado, so you'll want to stick with these basics to start. We'll delve into a few different recipes. Pro tip: before applying each homemade remedy to your entire face, test the mask on a small spot to see how your skin reacts.
Avocado and Honey:
It's kind of an exciting prospect to put avocado on your face, and a lot of celebs have already hopped on board with this face mask trend. You eat this trendy fruit in various forms, so it just makes sense to also put it to good use on your skin. You can make a face mask and a snack all in one. For this face mask, you'll obviously need avocado, along with honey and coconut oil. According to Huffington Post, avocados make the perfect dry skin remedy because they have natural oils that can dive deep into your skin. They can also help fight off aging. All hail avocados! Get the full recipe here.
Coconut Oil and Honey:
For those of you new to face masks, slathering coconut oil and honey on your face can seem slightly intimidating. But, according to Women's Health, honey has the magical ability to draw in moisture from the air and redirect it into your dry skin for instant relief and hydration. Honey, honey, how you thrill us! Try to buy raw or organic brands of honey to apply on your face. As for coconut oil, it has natural antibacterial and moisturizing powers, according to Prevention. This mask only requires two ingredients, but you can also throw in lavender essential oil if you have acne-prone or irritated skin. Get the full recipe here.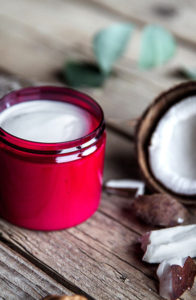 Oatmeal, Milk, and Honey:
This honey face mask works with uncooked oatmeal and milk to help refresh sensitive, acne-prone skin. This mask runs on the chunkier side, so lie down after you apply it and send funny selfies to all your girlfriends. If you were feeling iffy about rubbing honey on your face, milk might open up a completely new bag of worms. But, according to a dermatologist, the amounts of water, fat, and proteins within milk make it the perfect moisturizing face mask ingredient. However, if you have a milk allergy, this mask might not be your best option. Get the full recipe here.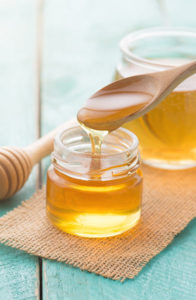 Avocado and Egg White:
Your favorite fruit comes to the rescue for your skin again in this easy to make mask. The egg whites work with the avocado to give your skin even more moisture, while also tightening you skin and shrinking your pores. Who knew your favorite foods would look so good on your face!? If you have leftovers of this mask, you can also use it on your neck and hands for all-over hydrated skin. Get the full recipe here.
[Photos: Shutterstock]