This might be the most random collaboration we've ever seen, but we have to admit, the glasses are pretty cool. When we first heard that Diane Von Furstenberg would be teaming up with Google, we were slightly unsure about this partnership. We may have even said thing like "WTF why?!" But, now it's clear. Google needed to find a way to get fashion girls, like us, to acutally want to wear their Google glass, since the originals were so manly. Now, girls can get on the Google Glass action without losing our sense of style. Seems like a no brainer to me. Good job, Google.
In case you didn't know, the Google Glass let's users share photos, update statuses, answer and make calls, shoot videos, and scroll their social media accounts hands-free. All you have to do to activate the glasses is to say "Ok Glass" and you're ready to go. This is definitely the best wearable tech gadget out there, and the DVF name just makes it ten times better.
The DVF Made For Glass ($1,800) is available in 5 colors includng black, teal, purple, brown and white, and comes with matching sunglass shades. You can also get them made according to your prescription. They're actually so stylish that you can wear them all day, not just at work! So if you're a tech lover like us, then head over to Net-A-Porter to get a pair of these awesome glasses.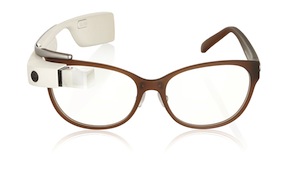 DVF Made For Glass ($1,800)
And don't forget to check out: the Poppytalk x Target collab, Net-A-Porter Summer Beauty Kit, and Amazon's smartphone.
[Photo: Net-A-Porter]