We love Earth Day, but some products take being eco a little too far–ahem, human hair bracelets. We've rounded up the craziest eco-friendly products around. Here are the 5 steps we won't ask you to take for Earth Day:
1. Wear human hair jewelry
A handful of designers have dabbled with using hair in jewelry. Hey-it always grows back. We draw the line at Lady GaGa hair bows, but you can hardly tell there's hair in Melanie Bilenker's collection, at right.
2. Shampoo with illegal substances
Okay, you won't get busted in the airport with Alterna Hemp With Organics Shine Shampoo ($23), although it is a close-cousin to Mary-Jane. And no, you won't grow dreadlocks either.
3. Pucker up with corn-based lipstick
Cargo Cosmetics' PlantLove Lipstick ($20) has packaging made from a corn-based renewable resource. Too bad we keep lipsticks long enough for them to bio-degrade on their own.
4. Swap your designer handbag for a sun-powered purse
Useful, albeit weird, this Noon Solar's Linden ($433) solar-powered purse will actually charge your cell phone.  But you have to leave it out in the sun.
5. Wear Organic Underwear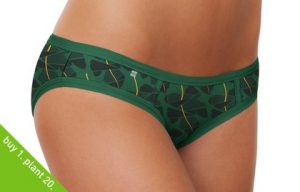 Recycled garb is great, but I like my panties to be "new" when I get them. The exception? When you buy a Green Belt Bikini ($20), PACT plants 20 trees in Africa. I can wrap my head around that one.
Head over to our buying guides for eco-friendly shoes and handbags, underwear and eco-cleaning products just in time for Earth Day.