Throwing backyard dinner or pool parties should be something you look forward to, not stress about. After all, it's the best time to catch up with your friends and family and to create ever-lasting memories. But sometimes, it's easy to get caught up in the chaos of trying to plan the best get together that you start to feel like it's not even fun anymore. And we are here to change that.
We got the chance to talk to HomeGoods style expert Jenny Reimold on three simple ways you can step up your hosting skills that will actually make it easier for you. Sounds like a dream come true, right? These tips not only make sure there is something entertaining for all ages but also include amazing finds at unbeatable prices. Trust us, your guests will leave impressed and will definitely want to RSVP to your next event.
Repurpose a bar cart. Whether you're hosting a campout with the kids or having some friends over for a bonfire, take the drinks off your bar cart and instead, have it become a s'mores bar that will easily be able to serve your guests. HomeGoods has so many options in materials like metal, acrylic and wood that you can use this piece indoors and outdoors no matter your style.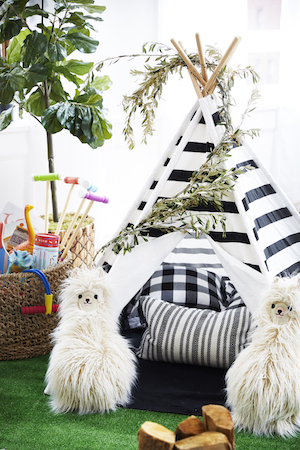 Make room for the kids. Keeping the kids occupied is an important part of entertaining. And an easy way to do so is by designing a space just for them. This adorable striped canvas teepee (that's under $100!) will make sure they have fun and when the weather gets cooler, you can bring it inside and put it in their room or playroom until next summer.
Don't forget games. "Whether you're hosting an adults-only party or inviting all of the neighborhood kids, backyard games are sure to entertain guests of all ages. Stock a big wicker basket so that anyone can grab and play. This year I found lawn bowling, croquet, yard golf and paddle ball from HomeGoods, most for about $9.99 each!"- Jenny Reimold
So there you have it! Make sure you head to your nearest HomeGoods so you can find everything you need for your next backyard bash.