Over here at SHEfinds, we live for the moment when lines we've been waiting for finally drop. Today, we're elated, just as we were getting sick of our summer sandals, British designer Giles Deacon for Nine West is here. Go ahead and pre-order now–these (under $150!) pieces ship by Aug 8, which is just a week away. Think of it as fashion insurance.
While some collabs are disappointing, we're loving the look of the chunky fall wedges, pointy flats and Deacon's eponymous "Eek" character playfully hidden on the jewelry and totes. Eek mouse has become a character seen in a lot of Giles Deacon's runway pieces, after appearing on a fall/winter 2006 shift dress. (See photo below). Editors and buyers alike loved him…and so he's continued to make cameos in Deacon's collections ever since.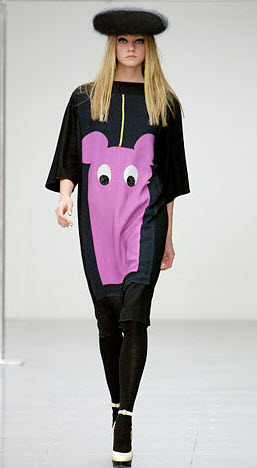 Get a piece of it, for a lot less, here!
Read more about Giles Deacon for Nine West, check out more collaborations, news, all of this week's sales and deals and online sample sales, plus booties and fall shoes we're coveting now.