We know how sneaky magazine editors can be with their digital cameras and notebooks at fashion previews and shows, and alas, it's all in vain! When The Guardian pointed out that three glossy fashion magazines (British Elle, British Vogue and W) all chose the same Miu Miu dress for their August covers, some editors were pretty embarrassed. British Elle took it a step further, though, defending the dress choice in a blog post last night.
Editor-in-chief Lorraine Candy explained that they chose the dress because it "appeals to the Elle reader who doesn't take herself so seriously." Elle editors should take a cue from their readers.  You're looking at the same merch as everyone else, ladies–if you pick a pretty dress that's seasonal and eye-catching, chances are your nemesis will, too.
Don't get caught in a real life version of "Who Wore It Best": check out some of our favorite Miu Miu dresses: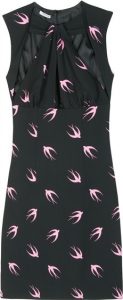 This Miu Miu Bird Print Silk dress (1.090,46, down from $1.817,43) is such a vintage-looking work of art. The neckline is sexy and the pattern is one-of-a-kind.
This purple Miu Miu Duchesse Silk dress ($802.75, down from $1,143) is the ultimate birthday party dress: the short style even has a big bow so you look like the present.
This Miu Miu Frill-detail cotton-jersey dress ($330) is a great all-day-long type of black dress – wear it with leggings for work and bare legs to a gallery opening.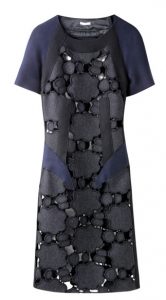 The cut-out detail of this Miu Miu Ardesia Laser Cut Wool dress ($859.26, down from $2,851) make it a collector's item.
Get more high end favorites on sale by checking our online sample sales regularly. Shop our guides to the best discount jeans and the best cheap shoes. Subscribe to our newsletter for exclusive fashion updates.