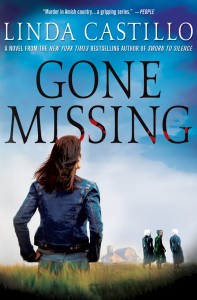 New York Times Bestselling Author Linda Castillo, author of Sworn To Silence, Pray For Silence and Breaking Silence, has just released her latest novel Gone Missing. Castillo's latest work is a deeply chilling novel about  a rite of passage gone horribly wrong.
A missing child is a nightmare to all parents, and never more so than in the Amish community, where family ties run deep. When the search for the presumed runaway turns up a dead body, the case quickly becomes a murder investigation. And chief of Police Kate Burkholder knows that in order to solve this case she will have to call upon everything she has to give not only as a cop, but as a woman whose own Amish roots run deep.
Kate and state agent, John Tomasetti, delve into the lives of the missing teen and discover links to cold cases that may go back years. But will Kate piece together all the parts of this sinister puzzle in time to save the missing teen and the Amish community from a devastating fate? Or will she find herself locked in a fight to the death with a merciless killer?
To celebrate this new release, Minotaur Books is offering one lucky SHEfinds reader a copy of Gone Missing, and a $100 Visa Gift Card! Hurry, today is the last day to enter! If you've never had the pleasure of reading one of Linda Castillo's novels, Gone Missing is a fabulous place to dive-in!  Visit Linda Castillo's Facebook Page to learn more about the novel and the author. Find out where to buy Gone Missing.
Rules:
1. You must be a subscriber to our newsletter to be eligible. Sign up here.

2. To enter, all you have to do is comment below and tell us your favorite Linda Castillo novel, or a favorite novel of the last few years!

3. You must supply us with a valid email address.

4. The contest starts now and entries must be date stamped by our server no later than Friday, July 6 th at 11:59 AM Eastern Time to be eligible.

5. One winner will be selected during a random drawing and will be notified via e-mail and must respond as instructed to receive the prize.

6. No prize substitutions.

7. You must be 18 years old or older and a resident of the US to enter. Entries from the state of Florida are void.

8. No purchase necessary.

9. Void where prohibited.

10. Click here to see the full rules.