"Named after my blonde, freckled daughter. It was a brooch from the '50s. $85 at
Etsy
.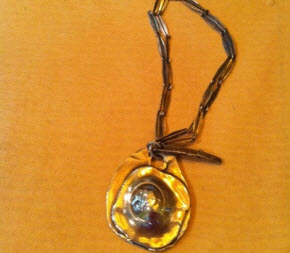 "Inspired by a dream I had of gorgeous stampeding elephants, I wanted it heavy to reflect their size." $140 at Etsy.
Originally a belt buckle found at a flea market! This piece is also named after my daughter, who likes jewelry simple and streamlined. $120 at Etsy.
The idea for this came when a friend was embarking on a new venture. If one lucky totem was good, why not two? $140 at Etsy.
Perfect for a wedding or other special occasion, this is an assemblage of vintage brooches on hand-dyed ribbon. $225 at Etsy.