The editors at SHEfinds wrote this blog post on behalf of H&M and received compensation as part of our agreement.
Festival season is here and we couldn't be more excited about the fashion. Now before you bemoan the fact that you don't have tix, save it. You don't need to actually attend a festival to embrace the awesomeness that is festival fashion.
Take, for example, the new H&M Loves Coachella collection. Yes, it is inspired by the iconic concert experience, but the fringed tops, denim cut-offs, patterned jumpsuits, floppy hats and sunglasses will look good whether you're in the desert or on the hot city streets. Take a peek at some of our favorite pieces from the line:
Daisy Sunglasses ($9.99)
Embroidered Shorts ($17.99)
Felt Hat ($24.99)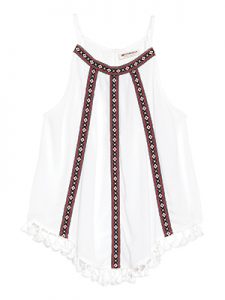 Embroidered Top ($24.99)
Didn't we warn you it was amazing? The collection launches in stores on March 24, 2016, with an online sneak peek today. Consider yourself warned–this collection is going to be a hit, so mark your calendar to start shopping as soon as it drops.
SHOP THE H&M LOVES COACHELLA COLLECTION NOW
PS: Attending Coachella this year? Make sure you check out the H&M tent where you can shop the festival collection.
PPS: Didn't get your Coachella tickets before they sold out? H&M is giving away festival passes and camping passes throughout March, so be sure to follow @HMUSA on all your social platforms for a chance to win!
[Photo: H&M]