The most controversial feature of the new iPhone 7 and 7 Plus, which just launched today (!), is the removal of the headphone jack. Apple called their decision to go completely wireless "courageous," but the rest of us were left wondering how exactly this will work. Will you need to buy a new pair of wireless headphones? (No, you can continue to use your regular EarPods with an adaptor that connects to the power jack–but Apple doesn't think this is the best option.) Will you have to buy Apple's product, the new $159 AirPods, or can you use wireless headphones from other brands? (Thankfully, yes, other wireless headphones are compatible.) How do you avoid losing them (don't worry, we found a product for that!) and are there only inner-ear headphones available? (Luckily, no! We found a good variety of outer and inner ear wireless headphones.)
We took your most burning iPhone 7 headphone questions and put together a shoppable guide, with tips and links to buy, to answer them. Get all the info you need and shop now:
EarPods with Lightning Connector ($29)
Let's start with the laziest/easiest option: using the headphones you already have (the kind with wires). The new iPhone 7 and 7 Plus come with a Lightning port, aka the hole you use to charge the phone. If you buy a new phone, it will come with a wired set of EarPods, a Lightning connector, and a Lightning to 3.5mm headphone socket adaptor so you can continue using your current headphones. This is great news for people who really hate change.
The one catch? You won't be able to charge your phone and listen to music at the same time. Not ideal!
Apple AirPods ($159, available late October)
Now, let's talk about the option of springing for Apple's new product, the AirPods ($159). Apple's pretty jazzed about them–and reviewers are, too. With AirPods, you'll have a completely seamless connection and listening experience. As soon as you take them out of the box they turn on and connect to your iPhone, Apple Watch, iPad, or Mac. When you put them in your ears, the music starts playing. When you take them out, it stops. They're noise-cancelling. They're powered by Apple's new W1 chip. The sound quality will be exactly the same as wired headphones.
They also get 5 hours of battery life, which is pretty good for wireless headphone–but also a reminder that you'll have to charge your headphones now, in addition to your phone (ugh). $159 gets you the AirPods, a charger and connector cord. Just 15 minutes of charge gives you 3 hours of listening.
Another catch is that they're not available until late October. The iPhone is available now… Not sure how Apple screwed up the timing on this one. Just use the Lightning adaptor with your current headphones until then.
They're trying to find their Air Pods #AppleEvent pic.twitter.com/AV9YLJPlH3

— Ant Simpson (@antsimpson) September 7, 2016
So, what if you're springing for the AirPods, but are really worried about losing them? That's on a lot of people's minds right now–we've all had an earplug pop out of our ear at some point, but haven't had to worry about it not being connected to anything and dropping to the floor. (What if you're on, say, a crowded subway or a raft in the middle of the ocean? Buh-bye.) Apple said it will sell the AirPods individually, but who wants to spend more money? Not I! Luckily, there's a product you can buy exactly for this purpose. They're like croakies for sunglasses, but for headphones: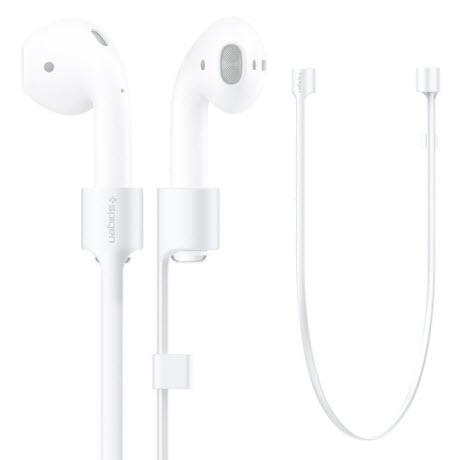 A company called Spigen made an AirPod Strap ($9.99, available October 17) that attaches to the Airpods so they can rest around your neck. Genius!
Now, what if you're not happy with the standard issue AirPods that Apple has to offer? No problem, because they've teamed up with Beats on some new high tech options that contain the same W1 chip. The Beats Solo3 ($299) is an over-ear wireless headphone option that is already available on the Apple store and is compatible with iPhone 7 and 7 Plus.
Beats Solo 3 ($299.95)
The Powerbeats3 ($199.95) and BeatsX ($149.95) will hit the Apple store "this fall:"
The Powerbeats3 comes with a neck strap ($199.95, coming soon)
The BeatsX also has a neck strap ($149.95)
What if you don't want to spend $159 on Apple's headphones, don't want to wait until October or don't like that specific kind of headphone (say, you want an outer ear option). Now we bring you the non-Apple wireless headphone options that are compatible with the iPhone 7. The only catch is that you'll have to connect via Bluetooth wireless, which is not as seamless a connection as the AirPods. (Hit the "pair" button on the headphones, go to settings > Bluetooth > select the headphones). That's an extra 10 seconds or so of wait time before you're listening to tunes. You're Killin us, Apple!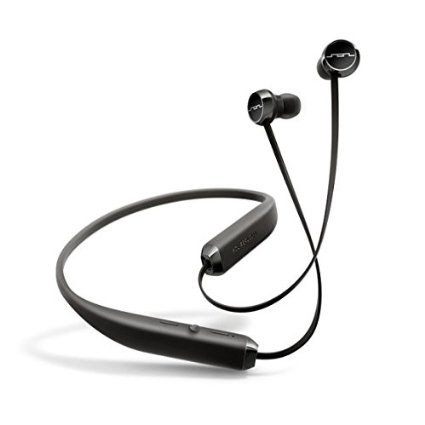 These SOL REPUBLIC Shadow Wireless ($79.99) are high-rated, cost less than AirPods and have a longer battery life (8 hours). Score!