Kardashian matriarch Kris Jenner knows a thing or two when it comes to fashion. She's (literally) birthed five fashion icons. If it weren't for Kris, we wouldn't have Kendall Jenner, which means we might not have lived through the rise of bridging! Dare I say, a Kardashian-free world would be calamitous for the fashion industry. Who would wear weird leotard-shaped tanks if  Kourtney Kardashian hadn't set the trend? Who would keep lip-injections in style if it weren't for Kylie Jenner? Lisa Rinna??
Point taken, Kris Jenner is strangely influential. At 60 years old, she's keeping up with all the Kardashians and then some. We regard her as something of an authority on the matter of functional fashion, and her recent advice for Caitlyn Jenner only proves our point.
On a recent episode of Keeping Up With The Kardashians, Kris told Caitlyn that constantly wearing heels will aggravate her preexisting knee trouble. Woman-to-woman, Kris told her ex, "A smart girl always has Uggs in her car."
We couldn't agree more, Kris! Do you keep a pair of Uggs in your car?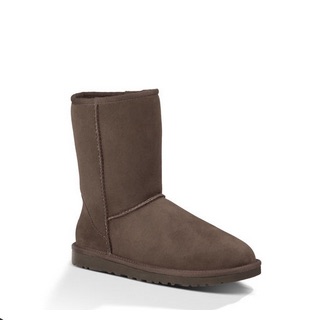 Women's Classic Short ($130)
Don't forget to check out: Blake Lively's Shoe Storage Hack Makes Her The Martha Stewart For Millennials and Oprah's Closet Cleaning Hack Revealed (It's Totally An Aha Moment!)
[Photo: Splash News]