In case you missed the memo, Eva Mendes' New York & Company collection is pretty darn sweet. The latest installment just launched and if you haven't shopped for fall yet, this is the time to do it. Not only are there gorgeous skirts, dresses and warm sweaters, but all of it is crazy affordable!
Need help deciding which pieces to purchase? Take a cue from Eva herself who was recently snapped wearing her collection head to toe. Everything she is wearing in the photo above is less than $70, which means you can totally afford all four pieces! Shop them below.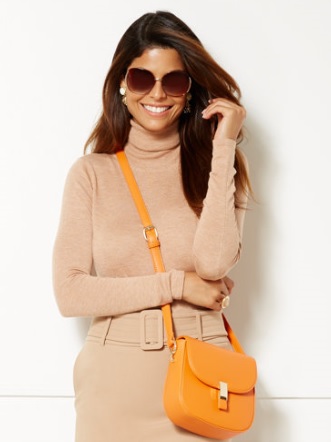 Eva Mendes Collection – Kelly Turtleneck Bodysuit ($29, down from $49.95)
Eva Mendes Collection – Gallery Skirt ($69.95)
Eva Mendes Collection – St. Germain Ankle-Strap Pump ($64.95)
Eva Mendes Collection – Circular Crossbody Bag ($59.95)
For more of the best celebrity style, check out Sofia Vergara's tank dress and Chrissy Teigen's floral blouse.
[Photo: INFPhoto.com ONLY]