Some of you might know Jamie Chung as the girl from The Real World: San Diego, others might recognize her as Stu's wife from The Hangover sequels. But if you're a frequent reader of our site, you definitely know her as the chick whose closet we wish we had. The actress doesn't just have great style, she also shops at the stores WE all shop at, like T.J. Maxx, American Eagle and Express. She manages to find awesome deals on some seriously cool pieces, puts together killer outfits and document it all on her lifestyle blog, What The Chung.
So when we had the chance to ask Jamie some questions about her favorite spring trends and upcoming wedding to actor Bryan Greenberg, we couldn't say no. If you're not already a fan of the reality star turned bona fide actress, read below to hear how down-to-earth she is:
SHEfinds: Jamie, what are you buying for spring?
Jamie Chung: Pencil Skirts, midi skirts, all things floral and bright colored accent pieces.
SF: What's your favorite spring purchase (so far)?
JC: I recently found a gorgeous designer canary yellow silk cocktail dress at T.J.Maxx that I just debuted on the red carpet at the Godzilla premiere in Los Angeles. The dress was practically made for me and I got it at a steal.  It'll definitely be in rotation during the summer party season!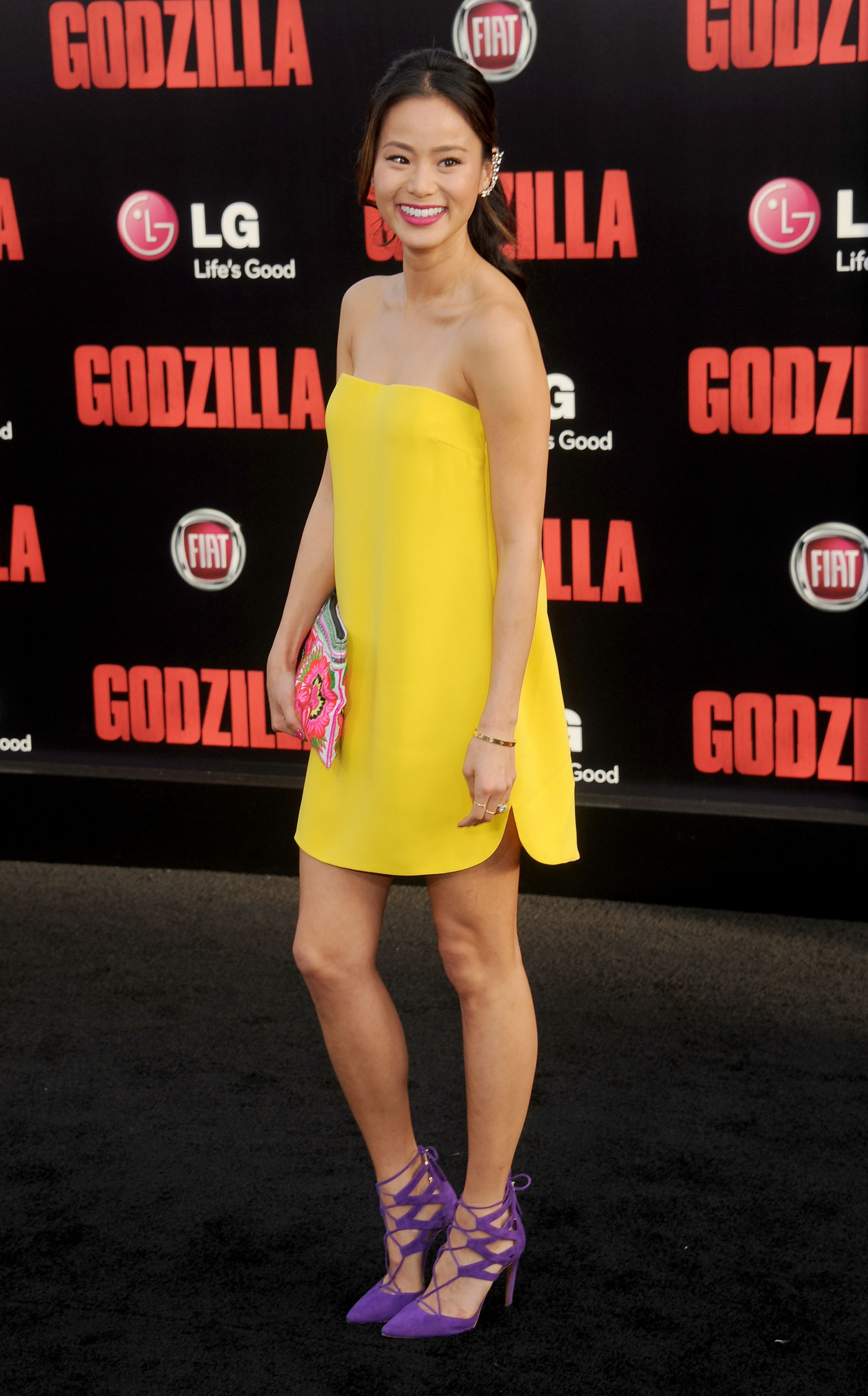 Godzilla Premiere
SF: Who are some of your favorite designers?
JC: At the moment I'm in love with Isabel Marant, Cameo the Label, Rebecca Minkoff, Chanel, Stuart Weitzman, For Love & Lemons, Lovers and Friends, the list goes on. I love designers that stay true to who they are but always evolve to become better versions of themselves. I believe that's what makes them successful.
SF: What are your go-to places to shop?
JC: My little secret is that I love to shop at T.J.Maxx, I can find quality designer pieces and the hottest trends without breaking the bank!
SF: Are there any specific trends for spring/summer that you're super into?
JC: I'm looking forward to wearing feminine midi skirts, all things floral and accessories with a pop of color.
SF: What's the one piece you own that makes you feel like your best self?
JC: A bright pencil skirt paired with a classic top and a statement necklace with killer heels because it hugs in all the right places and makes me feel my best.
T.J.Maxx Dress Your Self Panel
SF: What are the wardrobe staples you think every girl should own?
JC: While I stay on top of trends I always want to make sure that my wardrobe is filled with versatile pieces that express the polished person I am today. I believe that a gorgeous handbag can transform any look. I take my outfit from day to night by wearing a great summer dress or skirt with a cute pair of flats and dress them up with a pair of sexy strappy heels. Finally a great piece of jewelry that works with everything and travels easily.  I recently found this gorgeous 14K gold necklace at T.J.Maxx that goes with everything, whether I'm going with a more casual look with jeans or a more girly look with a floral spring dress.
SF: We hear you're engaged, congrats! Any ideas for your wedding dress yet?
JC:  I've started looking at dresses and had the chance to see some wonderful collections during the recent bridal fashion week but have not made any decisions yet.
So, what did we learn about Jamie? The girl loves a good pencil skirt. And doesn't she rock the hell out of her floral one from T.J. Maxx?! We're so happy Jamie shared her style secrets with us. We hope we can now look half as rad as she does now that we know how to dress like a trendy celeb. Click the slideshow to see all her spring must-haves from T.J. Maxx!
And don't forget to check out: the best spring sales this weekend, Topshop x Kate Moss is re-stocked and where you shop in your early vs. late twenties
[Photos: Splash News, T.J.Maxx/Marshalls]