Courtney Akai, owner of Courtney Akai Lash Boutique in New York City, has agreed to offer up some of her awesome tips when it comes to eyelash extensions, mascara and more. Courtney is responsible for the gorgeous, voluptuous lashes of Betsey Johnson, Elizabeth Hasselback, and more. Read Courtney's insider tips before you even think about picking up the mascara wand:
Tip 1: Try Lash Extensions:
"I would recommend getting extensions two days before your big day," says Courtney.  "This will allow the lashes to set properly and they will still look completely fresh. If your lashes are thin, I'd recommend using an eyelash growth serum or strengthener such as RapidLash ($49.95) or RevitaLash ($69, down from $150)."
Tip 2: How To REALLY Stop Mascara From Running:


"With extensions." says Courtney, "There is absolutely no need for mascara with extensions and if you want really high drama, you can just use it on the tips." But if you are forgoing extensions, her all-time favorite waterproof mascara is Lancome Hypnose Waterproof Mascara ($25).
Tip 3: Don't Pull Or Rub Your Lashes: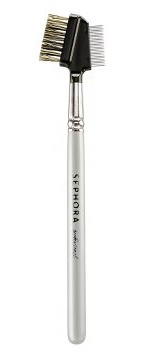 Don't pull or rub extensions or natural lashes – this can be very damaging," relays Courtney. Instead, try a comb like the Sephora Professional Platinum Lash & Eyebrow Comb #21 ($10).
Can't Afford Extensions? Courtney's Faux Lash Pick:

If you're looking for something just for your big day, Courtney recommends fake lashes and her favorites are Mac #7 Faux Lashes ($14).
Need more expert wedding day tips? Check out celebrity hair tips, celebrity makeup tips and foundation garment tips from our experts. And shop our guides to simple wedding dresses and inexpensive wedding dresses if you're still looking for the perfect dress.