Getting older is inevitable, but it shouldn't be something you dread. There are so many great skincare treatments on the market these days that help keep your skin looking radiant and youthful. The key? Starting early! That's why even though I am only in my 20s, I've already started to introduce antiaging products into my routine.
One of the things I'm most concerned about is fine lines around my smile and eyes. So I decided to give Exuviance® brand's newest innovation a try. The HA100 Micro-Filler two-step regimen is scientifically developed to smooth the look of stubborn lines while you sleep.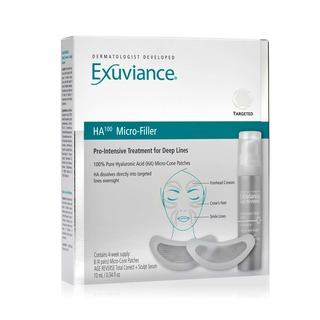 Exuviance HA100 Micro-Filler ($88)
How exactly does this regimen work? Each box comes with four pairs of Micro-Cone patches that contain 100% pure Hyaluronic Acid as well as AGE REVERSE Total Correct + Sculpt Serum. When you apply the patches to your skin, the Hyaluronic Acid dissolves into your skin overnight, filling in visible lines with surface hydration. Exuviance® AGE REVERSE Total Correct + Sculpt Serum (which should be used every morning and night) helps transform skin, addressing the look of signs of aging including dark spots, sagging skin and uneven texture.
Now I know that high tech skincare like this can feel a bit intimidating, but trust me the two-step system is actually super easy to use. Here are the four simple steps:
1. Apply the serum morning and night.

2. Once a week at bedtime, once the serum is absorbed, remove the films from a pair of patches and gently press them onto the area you'd like to target.

3. Use your usual nighttime moisturizer, making sure to avoid the area around the patch.

4. In the morning, remove the patches and follow with your normal morning skincare routine.
Easy, right? Which means there's no reason why you can't do this regularly, especially since the work happens while you are asleep.
I've been using the serum and the patches for about two weeks now and I'm already loving the results I've seen thus far. My skin feels plumper and the lines around my eyes are definitely becoming less noticeable. If you've been experiencing the same type of problem with visible lines, I highly recommend giving this system a try. You'll start seeing amazing results in just 4 weeks if you follow the regimen.
SHOP THE EXUVIANCE HA100 MICRO-FILLER NOW
The editors at SheFinds wrote this post on behalf of Exuviance and received compensation as part of our agreement.