We dedicate so much of our time to strengthening our leg, ab, and arm muscles and burning body fat with effective cardio exercises — but how many of us are actually exercising our facial muscles for better definition? We hear so much about skin care creams and serums that can improve our complexion and help build collagen, but no cream can actually address sagging skin and cosmetic procedures that can are also extremely expensive.
If you've noticed a loss in tone in your face or want to strengthen the 50 or so muscles in your face now as an anti-aging precaution, facial yoga and face exercises are a real workout regimen you can do anywhere. These face exercises can help you unwind and relax after a long day of work and straining your eyes staring at a computer screen. And, when done consistently, they can even improve your skin's laxity and make you look more rested and youthful.
1) Forehead Exercise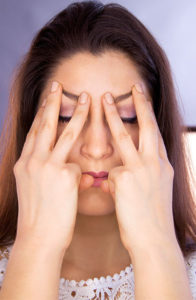 Help reduce forehead strain and wrinkles by placing your index and middle fingers above your eyebrows. Raise your eyebrow muscles while resting your fingers firmly on your forehead. Then, lower your eyebrows. Perform this exercise 10-15 times for about 30 seconds each time. If you find your fingers aren't providing enough pressure, feel free to use the palm of your hands instead.
2) Stretch Your Entire Face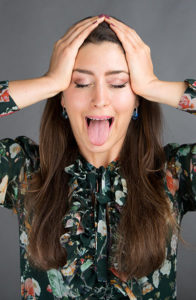 Place your hands on either side of your forehead and pull back slightly so that you feel a comfortable stretch in your face. Now close your eyes, squeeze your eyelids, and stretch your mouth by sticking out your tongue and keeping your lips open wide. Relax your entire face. Repeat this exercise 10-15 times for about 30 seconds each time.
3) Exercise Your Lips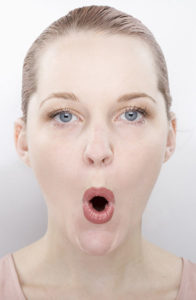 Who knew lips could benefit from a little workout, too? Make your lips appear plumper by increasing blood flow to the area. Open your mouth and stretch your lower lip forward until it touches your upper lip. Next, purse your lips inward for a few seconds. Relax your mouth and repeat these motions 10-15 times.
Another great mouth exercise works the muscles between your upper lip and nose. Open your lips and form an "O" shape — do this in front of a mirror to make sure your teeth are concealed behind your lips. Make the "Oooh" sound before switching over to the "eee" sound and then, finally, the "aah" sound. These various sounds position your mouth in such a way that you are exercising various muscles around the mouth. Aim for 20-25 rounds of these exercises.
4) Laugh Lines Exercise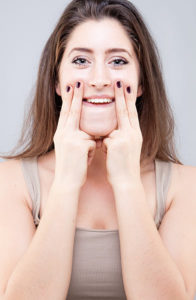 Laugh lines may prove you're leading a happy life, but what if you didn't have to sacrifice smooth skin for good times? This laugh line and cheek exercise can help strengthen the lower face: position your palms firmly against your lower cheeks. Using your mouth muscles and hands, pull the corners of your lips upward so that you are exposing your teeth and gums. Hold this position for about 25-30 seconds and then release and relax. Repeat this exercise 3-4 times at least three times a week for the best results.