First there was e-commerce, then thanks to the burgeoning population of smart phones, there was m-commerce. And now? Oscar de la Renta is officially making "F-commerce" (ahem, that's Facebook commerce) a thing. While many luxury brands have already started to promote products and sales via Facebook, Oscar de la Renta is the first to execute the transaction exclusively via the social media platform.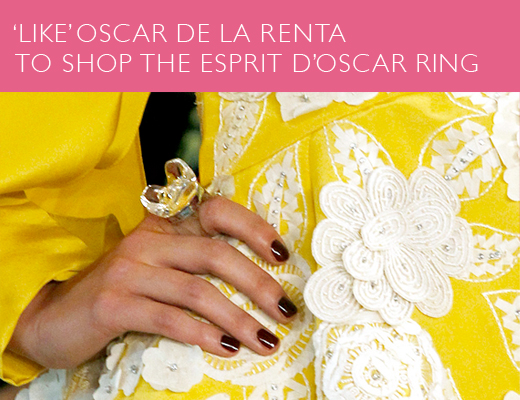 The first product available for purchase? The $65 Esprit d'Oscar solid perfume ring straight from the spring 2012 runways. PS: We've tested it for ourselves: it's a unique blend of lemon, bergamot, jasmine and other juicy notes. But the ring is far from the only product that will be featured on the Oscar de la Renta fan page. "It's an experiment for us and it's an experience that wont be limited to just this ring. Over the next six months, we have plans to consistently introduce new products over Facebook," ODLR's CEO Alex Bolen told WWD.
Be sure to check out our favorite sales and deals this week, or subscribe to our newsletter to stay on top of all fashion news.