There's nothing like social media to make a broken relationship that much harder to move on from. You change your status from "in a relationship" to "single" as you watch your no-longer-significant other move on via Facebook statuses, photos, and posts galore. Also, Facebook makes it especially difficult to move on when you find yourself watching your ex moving on without you. Maybe they're tagged in a new relationship before you know it with pictures from ice cream dates and meet-the-parents family photos. It's interesting how with social media, we can know so much about a person who we no longer communicate with face-to-face.
While this is something practically self-exclamatory about social media, Facebook wanted to challenge that. They're testing out their latest update with a tool that allows us to move on a little bit easier from our past relationships without having to go to drastic measures of deleting or blocking our exes off our friends' lists.
This update started on the 19th, and the way it works is that once you change your relationship from "in a relationship" to "single", you are prompted with several options.
This new tool allows us to filter out our ex's Facebook updates such as: seeing less of their name, profile picture, and posts from our feeds without having to unfriend or block them. Also, their name will no longer be suggested when people write a new message or tag friends in photos.
You also have the option of hiding and filtering out your content from showing up on your ex's feed.
You are even given the option to edit who else on your social network can view their past posts with a former partner and untag themselves from posts with that person.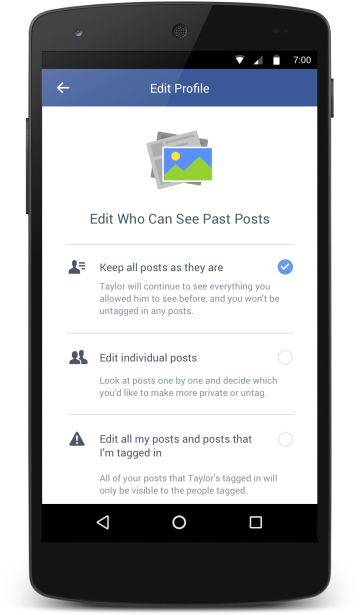 Thank you, Facebook, for making getting over past relationships much more bearable via social media!
Don't miss: 7 Baby Shower Games That Aren't Lame, Snatch Up Kourtney Kardashian's Sexy Suede Skirt Set While It's On Sale, and Forget A Holiday Party Dress–You Need This Holiday Party Jumpsuit
[Photo: Shutterstock]