Tops are the best part of any outfit – while pants, skirts and jackets have to serve as the neutral, utilitarian base for any outfit, the top gets to be whatever it wants to be. Tops are how we express ourselves. Are you an off-the-shoulder girl? Or a button down shirt one?
No matter what your style and sensibility is, these 7 top styles for Fall deliver. We've plucked them straight off the Fall/Winter 2010 runways. Enjoy!
Silk Blouse:
This season's must-have is a printed silk blouse – we love this under-$100 Madewell fall forest romance blouse ($98) for it's romantic feel.
Sweater Jacket:
Get a two-pher in this J.Crew Dream sweater-jacket ($158) – it's more than a sweater, but still as wearable and comfortable as one.
Raglan:
The raglan style is not for college dorm rooms anymore; this super soft MICHAEL Michael Kors Raglan Sleeve sweater ($89.50) is a luxe version of the trend.
Pocketed Oxford:
At under $70, you should spring for more than one of these Eight Sixty 'Utility' Blouse ($68) – it also comes in classic white and black.
Cropped:
Fall 2010's version of the cropped top is more sophisticated than it's 90s baby doll tee version; this Vince Silk Cropped Tee ($145) is  a perfect example of that.
Poncho Sweater: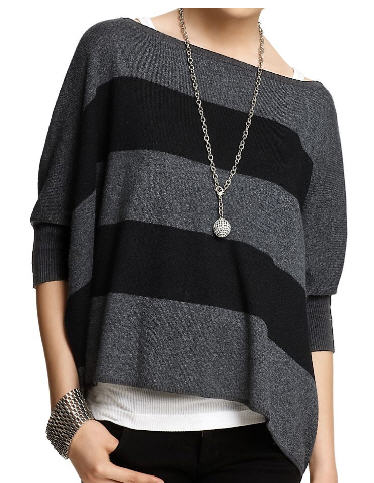 Thankfully, this cozy, forgiving style is totally on-trend for fall. Get a little slice of the look with this mesnwear-inspired Quotation Acrobat Striped Silk-Cashmere Poncho Sweater ($128).
Kimono:
Another elegant yet forgiving style, this Chelsea Flower Kimono blouse ($214) is chic and flowy and comfortable all in one.
Check out more must-have top styles, like evening tops, cardigans and deep v-neck sweaters.