Nina Garcia doles out amazing fashion advice for a living, so when she said that her first great investment was a black Chanel jacket that "saw many, many job interviews and many, many events," a light bulb went off. They say you should dress for the job you want, so why not save your pennies for a great, sophisticated jacket that could help you get where you want to be in life?
We think it's a great idea, but before splurging half a month's rent on this Milly Double-Breasted Jacket ($525), we had to crunch a few numbers: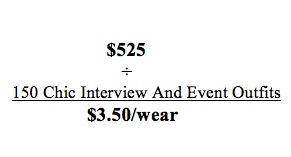 For less than the cost of a Starbucks run, you can get a gorgeous, sophisticated jacket that will position you to have an assistant to do the coffee run for you. It seems like a stretch, but not really – the coat is such a sound investment, it makes you look smarter (and ready to rule the world). So save a few dollars and go for it.