Fashion Week is all about dressing effortlessly. Celebs, editors and fashion personalities have to make sure they look great for the front row photographers but are still comfortable for the rest of the day, which is  spent shuttling to different shows. If we've learned anything by these photos of Heidi Klum and Rachel Zoe this weekend, a black fur jacket (or vest) can make anything look instantly more dressed up–whether you're heading to dinner, a party, or the front row, and lots of different texture is key–which makes it look like you actually thought about what you wore, and didn't just throw on the most comfortable thing in your closet.
These A.J. Morgan Maynard sunglasses look fashion-forward, but they're only $25. Talk about a deal.
This Mango Belted faux fur vest ($89) makes everything look a little cooler–from jeans to dresses.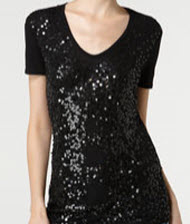 Make like Rachel Zoe in a Tory Burch black sequin t-shirt ($178), which can be dressed up or down and adds even more texture to the look. Make no mistake: the sequin isn't going anywhere–this particular one is part of her spring collection.
These skinny black GUESS by Marciano pants are a great wardrobe staple tucked into thigh-high boots, or with pumps. Don't retire them in spring either–they're the perfect length for a cute pair of flats.
Add even more interest, a la Heidi Klum, with a third texture: suede. These Hypnotic Alive grey suede pumps ($29.95) are just the shoes to elevate your look.
Get even more inspiration from our guides to celebrity style, plus our favorite front-row worthy sunglasses to grab now.