Who:
Hedi Slimane of Saint Laurent vs. Collette
What:
Slimane broke off a 15-year business relationship with well-known Parisian retailer Collette, canceling the Saint Laurent spring 2014 order (that totaled $285,738!) because Colette was also selling knock-off, but cult favorite, "Ain't Laurent without Yves" tees.
Winner:
Slimane may have won the small battle, but the attack on Colette seems pretty petty. As Colette owner Sarah Andelman said in an interview with WWD, "if luxury brands are concerned about parody T-shirts damaging their brands, they should take legal action against their makers, not their loyal wholesale partners who dabble in a quirky fashion trend," which is true. But for this one, Slimane wins for getting his point across to retailers and the fashion elite alike. [Photo:
Instagram
]
Who: Alexander Wang vs. Urban Outfitters What: Fast fashion moves, well, fast and by the time Alexander Wang put his "Parental Advisory" graphic down his spring 2014 runway, Urban Outfitters already had the design in stores for months. In the past, designer brands have gone after these fast fashion companies, suing for copyright, and it's likely Wang will pursue this route. Winner: Urban Outfitters. Fast fashion outlets are often penalized for copyrighting designer pieces, but this time, Urban Outfitters had the head start on Wang, and now, even Forever 21 is making a similar style. It's likely that by the time Wang's spring 2014 line actually hits stores, this graphic will be a trend long over.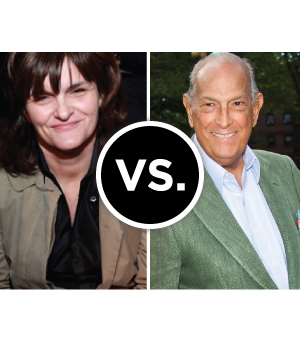 Who: Cathy Horyn vs. Oscar de la Renta What: It all started when Horyn called into question some literal beef, saying in her review of de la Renta's spring 2013 collection that he was "far more a hot dog than an éminence grise of American fashion." In response, de la Renta pulled out a full page ad in WWD in which he called Horyn a "3-day-old hamburger." Horyn claimed that de la Renta misunderstood her review, but de la Renta stood by his open letter. Winner: Definitely Horyn. The woman makes her living off of fashion feuds and is why she gets the big bucks from The New York Times. Plus, the whole shebang ended rather peacefully, and at de la Renta's pre-fall collection, Horyn was sitting front row in one of his designs. Win-win for her. [Photo: Instagram]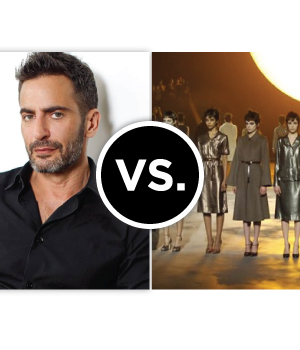 Who: Marc Jacobs vs. Underpaid Models (and their advocates) What: Women's issues news site Jezebel pointed to an up-and-coming model's blog where the model stated that Marc Jacobs pays models in trade rather than in actual, you know, money, and that the brand makes models work unreasonable hours -- basically for free. The brand responded, confirming that indeed, models are paid in trade and that if they don't want to work with the house, they don't have to. Yikes. Winner: Unfortunately, Marc Jacobs -- but hopefully that will change. With a big, well-respected name on your modeling resume, you're more likely to get better gigs. Marc Jacobs realizes this and saves money on buying big name talent to instead help the up-and-comers land work with an internationally recognized brand. It sounds a lot like an internship in the fashion industry -- but we all know that those laws are changing quickly. Hopefully that will be the case for models in the near future as well. [Photo: Facebook]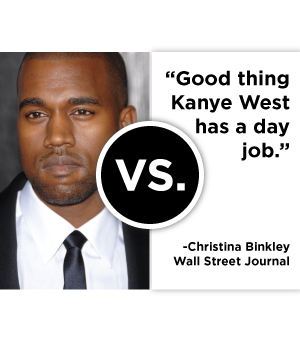 Who: Kanye vs. Critics What: Kanye's first foray into the fashion world was slammed by critics at The Wall Street Journal, The New York Times and Style.com, with the general opinion being that while everyone can like fashion, not everyone can design it. Winner: The critics, especially considering that for Kanye's next line, the lines, cuts and fit were all markedly improved.
Who: Marc Jacobs vs. Rachel Zoe What: For his fall 2008 collection premiere, Marc Jacobs started his show nearly on time -- at 7:20 pm -- forcing the likes of Nina Garcia to sneak in half way through and for Rachel Zoe to be completely shut out. Winner: Sure, it isn't completely normal for a fashion week presentation to start any earlier than half an hour into the brand's designated time slot, but it's completely up to the designer about when to start the show during their hour allotment, so Marc Jacobs wins. Besides, Rachel Zoe got to watch the show at the after party, sitting side-by-side with Jacobs himself. Not a bad deal.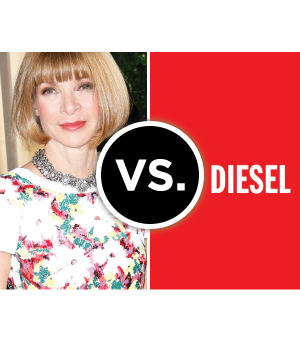 Who: Anna Wintour vs. Diesel What: Unorganized lines outside of the Diesel Black Gold fall 2010 show robbed the brand of Wintour's presence. Allegedly, Wintour and her team arrived at the event, got out of the car and then got right back in after seeing what a mess it was outside. Winner: Wintour wins every time, that is a just a given. Not only did she forgoing standing in line, she also got to miss a loud-mouth A-lister sitting in the front row that, according to those who attended, stole all the attention away from the actual collection.