Fashion is fickle: while last year, Tavi Gevinson, the 13-year-old fashion blogger, who ironically, at one point, dyed her hair gray, is out, and the original street style star, Iris Apfel, is in. At the age of 90, the former textile maven turned socialite, who's been photographed by famed New York Times style photographer Bill Cunningham for decades, and who has halways been known for her eccentricity in terms of dress. But now she's bringing her esoteric taste to the masses.
The Daily Mail reports that Iris, known for her red lipstick and signature oversize glasses, is recreating her look for MAC Cosmetics, a favorite of the fashion set. As a self-described "rare bird,"–she even was the subject of a 2005 Met textile exhibition entitled, "Rare Bird" the line will feature nail color, lipstick, and eyeshadows in jewel-tones and brights–all named for–you guessed it: rare birds. From Pink Pigeon to Diamond Dove, the 20-piece line will range from $14 to $23 and will launch January 5.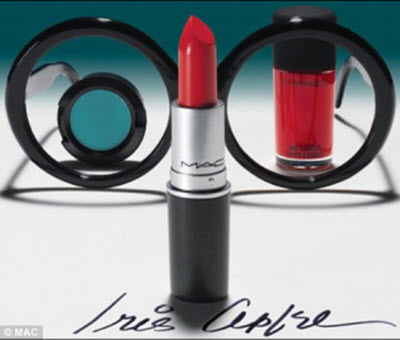 Her motivation? 'Most of the young people today look dreadful. And celebrities look even worse,' she told The Telegraph.
In the meantime, check out Apfel's jewelry lines at YOOX (which consists of her own personal collection of vintage pieces), and her costume jewelry line at HSN, plus read up on Iris Apfel eyewear…coming soon to a store near you. PLUS, Check out more: we've got the best sales and deals, and best find of the day picks, and even more beauty.