Yesterday's Ke$ha Halloween costume is tomorrow's fashion statement. Or at least, that's what stars like Hilary Duff and Jennifer Love Hewitt are proving with their latest hair addition: multicolored feather extensions, which are popping up everywhere from the red carpet to the L train.  And while not all hairstylists offer this boho addition to your 'do, it's fairly simple to add DIY feather extensions, thanks to the always crafty Etsy, where you can find clip-in extensions, or kits for more permanent looks (see our favorites after the jump).  The easiest style we're loving the most, though, is this $21.52 headband from ASOS, which has drop peacock feathers hanging from it, making for the classiest Ke$ha-inspired look we could fathom.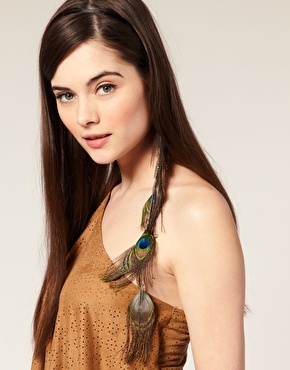 ASOS Asymmetric Hanging Peacock Feather Alice Band, $21.52
Like what you see? Be sure to check out more of our favorite celebrity style looks, or spring accessories trends like tribal jewelry and colorblock shoes.