Our calendar to all the best events you can't miss this month:
February 1: Fashion PR guru (and The Hills and The City alum) Kelly Catrone premieres her new reality show Kell on Earth on Bravo at 10 pm.  Expect lots of yelling, feuding, and fashion.
February 2: Sasha Fierce herself Beyoncé, launches her new perfume line today called Heat.
February 3: The finale of Bravo's fashion design competition, Launch My Line airs tonight at 10 pm.  Rumor has it that Fergie will take part in this episode.
February 4: American Apparel is looking for their newest butt model… and they want your help.  Starting today, for what they are calling "The Search For the Best Bottom in the World", you can check out and rate all the bums that have been submitted to the contest. Then get yourself some cheap new undewear.
February 7: Break out the beer and foam fingers, the Colts play the Saints in tonight's Super Bowl XLIV from Miami. The Who will be rocking out during the halftime show, too. Go to your Super Bowl party in a great pair of skinny jeans.
February 8: Cutting edge fashion mag LOVE hits newsstands today with a slew of naked supermodels like Daria Werbowy and Lara Stone each featured on their own cover.
February 11: Fashionistas rejoice and get your best looks ready!  Mercedes-Benz Fashion Week for the fall 2010 season begins today in New York.
February 11: Kate Moss' first line of handbags with French brand Longchamp goes on sale today.  With slogans referring to the bags like "An absolute Moss-have", you'll want to check them out.
February 12: Throw on some red, white, and blue and get ready to cheer, the 2010 Winter Olympics opening ceremony airs tonight from Vancouver, Canada at 6 pm.
February 13: If your man is more of the last minute shopping type (as most are), drop some hints today and get what you really want by checking out our list of Valentine's Day Gifts We Actually Want.
February 14: Oh yes, Valentine's Day has finally arrived.  For all you single ladies, make it a date night with your girlfriends and go check out the star-studded Valentine's Day, starring Julia Roberts, Jessica Biel, and Jennifer Garner to just name a few.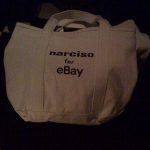 February 15: Narciso Rodriguez's first capsule collection for Ebay goes on sale today at 9 am.  Get your mouse ready because this line is sure to sell out fast.
February 18: Sadly all good things must come to an end, including fall 2010 Mercedes-Benz Fashion Week.  But now you can check out all the best shows on Style.com and get ahead on all the trends for fall.
February 28: The closing ceremonies for the 2010 Winter Olympics air tonight at 5:30 pm from Vancouver.
Don't miss a single day of bargains with our online sample sale calendar.