Feeling Fancy? Splurge On Kate Hudson's Designer Denim Shirt
Cool does not even begin to describe Kate Hudson's look as she departed from LAX. This trendy mother wore a DSQUARED Western Denim Shirt ($595) putting all our boring, simple chambray shirts to shame. No one said looking good came cheaply but a denim shirt is a denim shirt – in other words, it will last forever and be your go-to grab for any colored/printed/textured pants. But don't take it from us – just check out Ms. Hudson! Shop it below.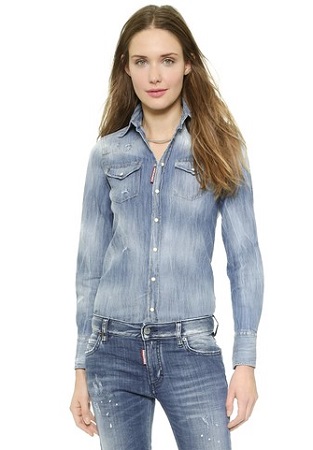 DSQUARED Western Denim Shirt ($595)
Check out Kate Hudson's short shortsBeyoncé's black and white skirt, and  Jessica Alba's studded sandals.
[Photo: Splash News]
Civil Society Marti Chambray Shirt
Community Clothing Tailored-fit cotton-chambray shirt