Is there anything (on Earth) more impossible than finding the ideal red lip shade that suits your skin tone? After years of hearing about yellow versus blue versus neutral-based red lipsticks, holding white pieces of paper to our faces to determine our undertones, and buying up shades that look okay under store lights, but turn you green in daylight, the end of our red lipstick misery is here — and we have queen Rihanna to thank for it.
RiRi's Fenty Beauty Stunna Lip Paint in "Uncensored" debuted in stores and online retailers on Nov. 23 and everyone is already hailing it as the one true universal red among an infinite sea of red lipsticks that rarely work. This shouldn't come as a surprise since Fenty Beauty is making a name for itself as the numero uno inclusive makeup brand that creates shades for everyone on the planet. But, who are we kidding: it's still thrilling to learn about a true red lip hue that won't require months of research and contemplation before you actually feel confident enough to drop money on it and hope for the best.
So, let's talk more about what you can expect from the stunning Stunna.
Fenty Stunna Lip Paint Swatch
This highly pigmented, soft matte lip shade provides 12 hours of wear and comes in the perfect packaging, complete with a precision wand applicator for easy applications and touch ups. Not that you'll need many (or any) touch ups throughout the day. Reviewers of the lip paint are mostly in agreement that this product is weightless and doesn't feather or transfer to food, beverages, or your partner's face/lips. And that's just what Rihanna says she had in mind when she created the hue: "I wanted a lipstick that wouldn't budge — even as you eat, even as you make out," she says.
The only thing to keep in mind before applying Stunna is that the formula works best once it's "activated," so feel free to shake the tube a few times. And, because of its long-lasting superpowers, you might find yourself needing to remove Stunna at the end of day or night with an actual makeup remover, which isn't so much a pain as it is an amazing miracle.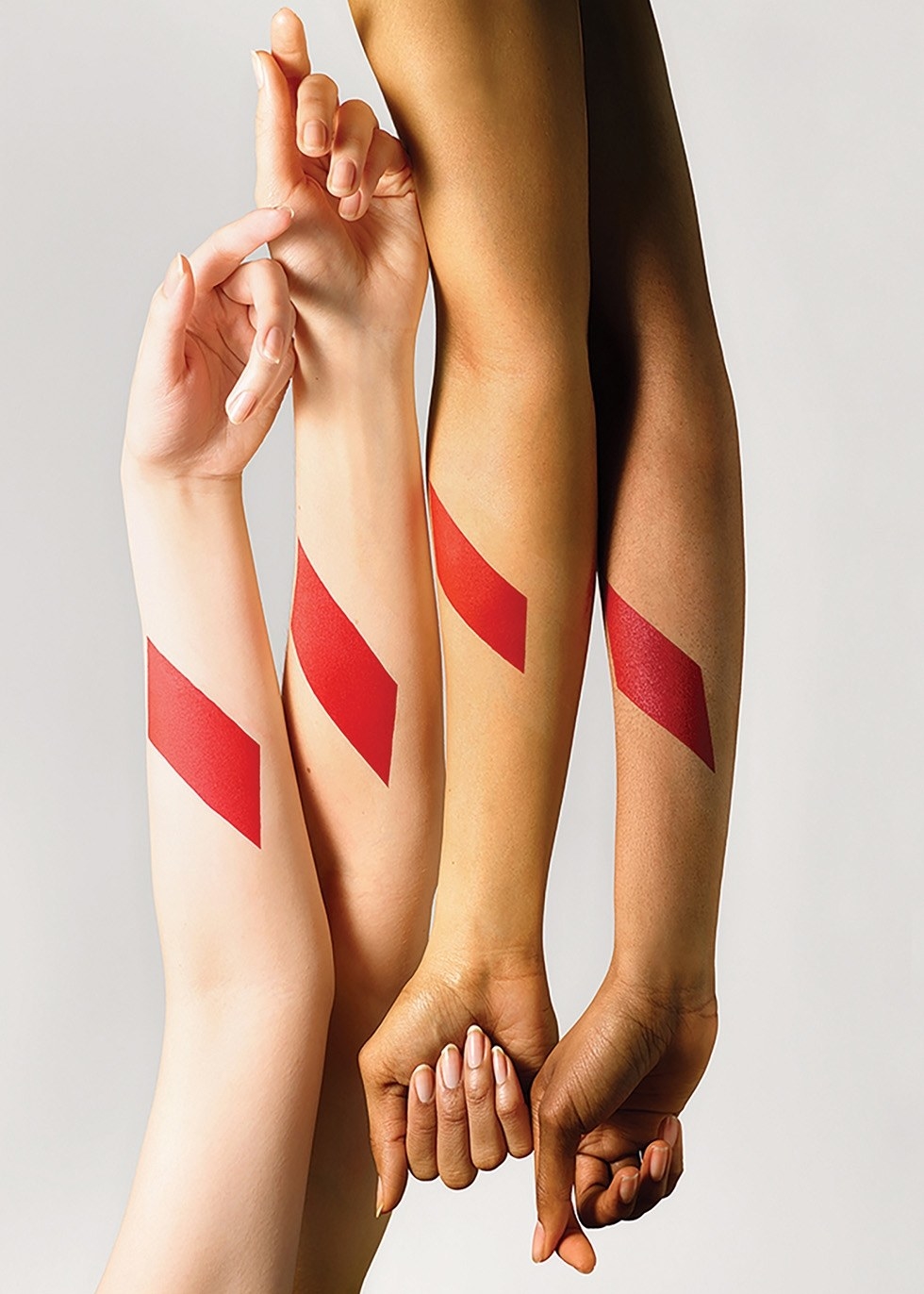 A quick search for Fenty Beauty Lip Paint reveals several publications have already tested the red shade on women with different skin shades and actual photographic proof exists: this is the red to end all reds. It somehow takes on new life and meaning on every skin tone — as if it was designed specifically with that person in mind.
Brava, Rihanna. The icon outdid herself this time. Shop now:
FENTY BEAUTY BY RIHANNA Stunna Lip Paint Longwear Fluid Lip Color ($24)
Since its release at stores like Sephora in early September, Fenty Beauty has been winning over scores of beauty fans with innovations like an incredibly soft, matte foundation formula available in 40 shades, a weightless primer, and the blindingly amazing Killawatt Freestyle Highlighter. But the really exciting news is that we have sense of knowing when Rihanna will stop killing it with releases. Just when we thought we had everything we needed, bam, she gives us the limited edition Galaxy Eyeshadow Palette. And then, a few weeks later, boom — here we all are finally rocking the perfect red lips in time for the holidays.
Fenty Beauty Lip Paint is everything and then some — and we're so here for it.