Miley Cyrus' VMAs performance outfit is officially the most popular Halloween costume of the year–but was does Miley wear then if everyone is going as her?? Lil' Kim, apparently.
Miley posted a photo of her costume on Instagram last night, which was a clever nod at another memorable VMA moment: when Junior M.A.F.I.A. rapper Lil' Kim wore a beaded purple jumpsuit with just a seashell pastie over her right boob to present an award to legend Diana Ross in 1999: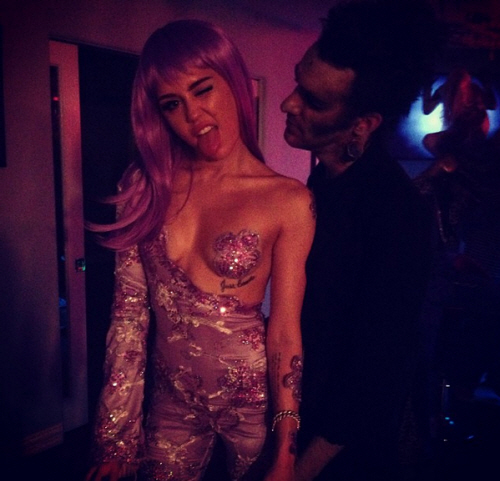 Such a memorable moment! Will Miley's We Can't Stop/Blurred Lines performance go down in history like Lil Kim's scandalous outfit? Who knows–but it's certainly entertaining!
And Lil' Kim showed that even she is a fan of Miley's, by Tweeting this clever response:
Remember when Diana Ross jiggled Lil's pastie'd boobie?! Oh, ya don't? Check it out here:
[youtube]http://www.youtube.com/watch?v=imbv7LCAg-w[/youtube]