Though you may say you gave up declaring a favorite color around the fourth grade, we know you have one! You may not actively notice, but there's probably a color you find yourself gravitating toward more than others. Perhaps you always wear navy eyeliner, or always choose light pink when a clothing item comes in multiple colors. Though subtle in its presentation, we're sure you'll find that one color or color group tends to rise to the top. Be it warm, cool, light or dark, here's what your favorite color says about you:
RELATED: Find Out What Your Favorite Fast Food Says About You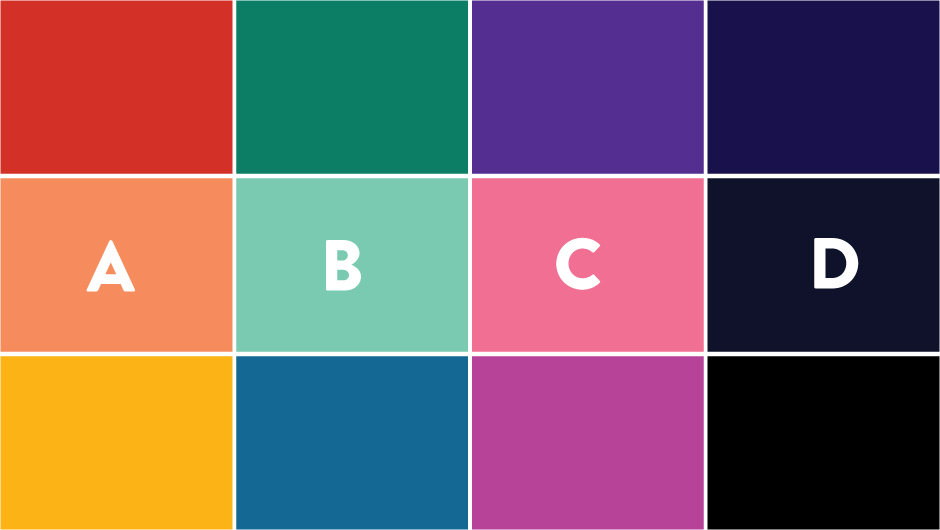 A) Yellow, Orange, Red
If your favorite color falls within the warm spectrum of yellow to red, you (like these fiery colors) are INTENSE. Not in a bad way, of course. You have a vibrant personality, and there's nothing wrong with that, but don't be offended if some of your friends struggle to keep up with you in conversation. Some people are better listeners than talkers, so don't fret if you feel like you're constantly monologuing.
RELATED: Find Out What Your Eyeliner Type Says About You

B) Blue or Green
These cool colors appeal to the introspective thinkers of the world (read: opposite of the 'A's). Blue-green gals have a lot more going on inside than the outside would lead you to believe. They're the sort of people whose idea of a perfect Friday night consists of a glass of Merlot and a good book — or Netflix, they like Netflix too.
RELATED: Find Out What Your Wedding Song Says About You

C) Purple or Pink
If purple and/or pink is your jam, you're pretty high-maintenance. Sorry, but it's true! You like for things to be done in a certain way, with a certain outcome — NO EXCEPTIONS. This can drive the people close to you absolutely insane, but to those who love you and deserve to be kept around, it's also sort of endearing (sometimes).
RELATED: Find Out What Your Go-To Lipstick Shade Says About You

D) Navy or Black
If you're into dark colors, you're probably pretty intimidating. You stand by your tastes and habits and DGAF what others think. This is the epitome of cool, obviously, but to those with lesser self-esteem, your confidence can seem scary. Balance your image and your approachability by reaching out to others more than you normally would.
RELATED: Find Out What Your Tongue Shape Says About You
Don't forget to check out: Find Out What Your Favorite Swimsuit Says About You and Find Out What Your Favorite City Says About You
[Photo: Shelby Rodriguez]