From head-to-toe, we've told you what your hair color says about you, what your toe length says about you, even down to what your favorite pizza says about you. Just like horoscopes, there's no real proof for any of this but it's pretty awesome when you find yourself identifying and resonating with something, even if it's just by mere coincidence. So with that said, now we're going to share with you what your foot shape says about you.
Which foot looks most like your own, A, B or C?
RELATED: What your ring finger length says about you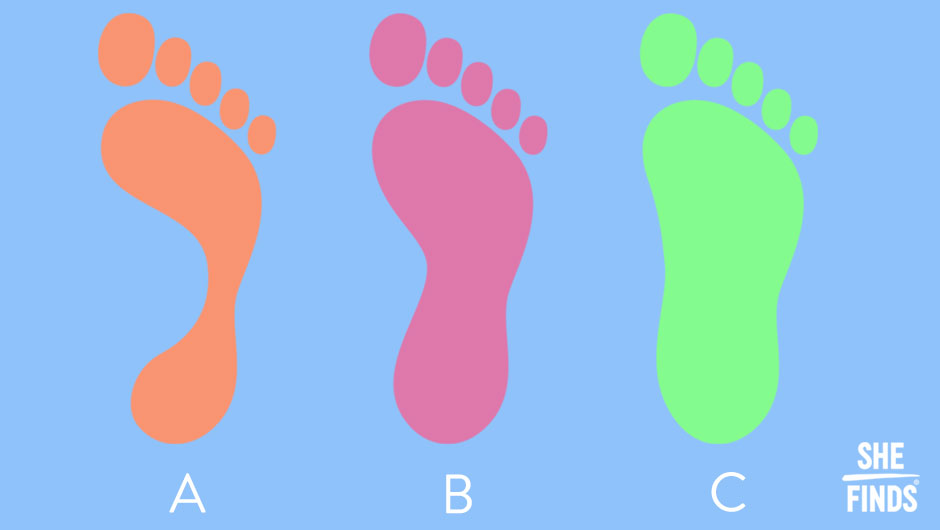 A) High Arch: This is for people who have very narrow-width feet.
If you have a high arch, you're kind of crazy… but in the best way. You're a little risky and the life of the party. You are definitely a unique, one-of-a-kind person. You also have a personality that makes you stand out. You're naturally in the spotlight whether you want to be there or not. You exude confidence and people want to surround themselves with you.
RELATED: What it means if your ears are attached of unattached
B) Regular Arch: Obviously this is the most common type of foot shape. You have an arch between the balls of your feet and your heels, but it is proportioned evenly.
If you have a regular foot, you are the perfect blend of a leader and a follower. You know how to take initiative, but you also are a great listener. You're very level-headed and people turn to you because you're reliable. You're also someone who is easy to relate to, so people tend to trust you because they find themselves relating to you.
RELATED: What your hair part says about you
C) Flat Foot: If your feet are a bit wider in width with less of an arch, you have a flat foot.
If you have a flat foot, this means you are very sturdy and stable as a person. You love security and consider that one of your biggest priorities. You epitomize ambition and your inner strength is what you are most known for. People like being around you because you're a natural leader.
And don't forget to check out: Adam Lippes For Target Is Here! Shop The Plaid Collab Now, 11 September Collaborations You Need To Know Now, and Katie Holmes' Old Navy Overalls Are Legit Only $37 Today.