Recurring dreams say a lot about the dreamer and her priorities in life.  Which dream do you return to night after night and what does it say about you?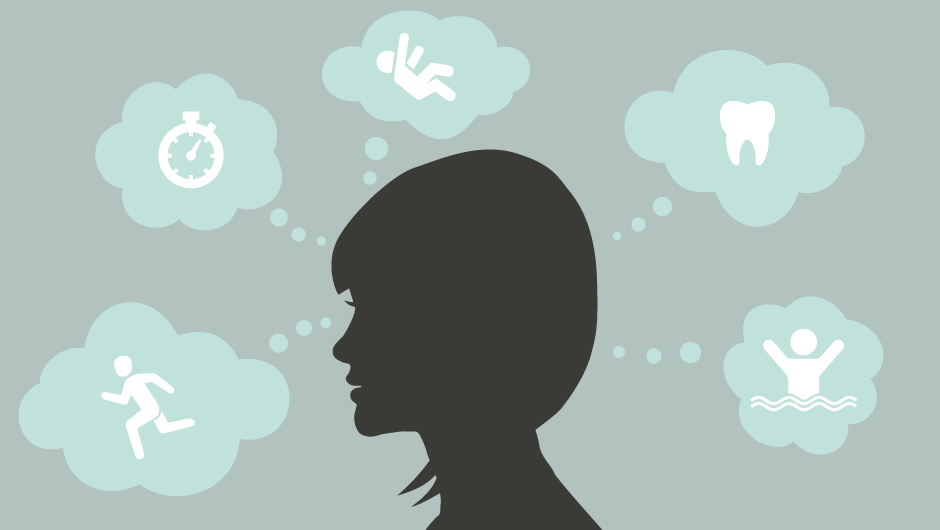 Being Chased
If your recurring dream involves being chased, you're probably dealing with feelings of fraudulence. You might feel like you're waiting for someone to call you out on your insecurities: not smart enough, not pretty enough, unworthy… This can also be the result of receiving praise you feel is undeserving — a grade you didn't work for, a pay raise you don't think you earned…
People whose dreams take on this stressful form are (more often than not) too hard on themselves! You need to learn to accept the good in your life and yourself without constant fear of being overrun by the bad. Enjoy what you have while you have it!
RELATED: Find Out What Your Sleep Position Says About You
Failing A Test
Failure dreams are all too common. They usually take the form of sitting down for a test you haven't studied for, running out of time, or receiving a failing grade. These dreams indicate that you're feeling unprepared, or (since these episodes typically take place in the past) that you're afraid of repeating old mistakes.
The failure dream is common among the stubborn, it's your subconscious's way of getting in touch with the flexible side of your personality, the one who doesn't want to fall into the same old traps by way of bad habits.
When faced with this type of dream, it's important to get ahead of the game. Pinpoint what it is you're worried about and prove your subconscious wrong!
RELATED: Find Out What Your Wine Choice Says About You
Falling
Dreams that end mid-fall have a lot to do with the dreamer's feelings of control (or lack thereof). This type of dream typically befalls (no pun intended) the type-A among us, the guys and gals that live out each moment as prescribed by their daily planners and take immense pleasure in a thorough alphabetizing. If this dream terrifies you, your subconscious is likely trying to push you (LOL!) out of your color-coded comfort zone. TLDR; Go with the flow, girl!
RELATED: Find Out What Your Eyebrow Shape Says About You
Teeth Are Falling Out
While a good tooth-loss dream may seem like a reminder to make a dentist's appointment (I mean, you probably should anyway…), there's a lot more to it than that. This common dream usually reflects a fear of losing your identity or undergoing an unwelcome change. Naturally, this could mean anything from falling into a new friend group to making a big career decision. This sort of dream is often had by those with a strong sense of self. You know who you are, but the sneaking suspicion that you might be wrong is nightmare material! People change, and that's okay — don't let your fear overwhelm all the positive turns your life is sure to take.
RELATED: Find Out What Your Hairstyle Says About You
Water Dreams
Water dreams take on myriad meanings. If you're swimming in the ocean alone and feeling scared or anxious, this indicates that you're looking for support but unsure where to turn. You may be feeling abandoned or neglected by your loved ones. However, if the dream is a happy one, and you feel at ease alone in the ocean or a pool, your subconscious is encouraging you to take some me time! You need a break from responsibility, a moment to truly CHILL.
People who tend to have water dreams are very in touch with their emotions and hyper-aware of any change therein. This is such an awesome attribute, but make sure to take it with a grain of salt. Your feelings are SUPER important, but don't let every flicker of emotion re-route your life.
RELATED: Find Out What Your Fingernail Shape Says About You
Don't forget to check out: Find Out What Your Thumb Length Says About You and Find Out What Your Lipstick Shape Says About You
[Photo: Shelby Rodriguez]